It doesn't take long for the creative and picturesque charms of Northland's west coast to enrapture Kirsten Warner.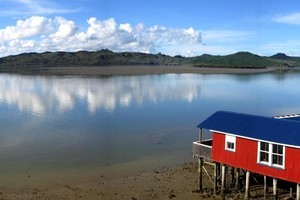 It was love at first sight. I spotted the row of wooden colonial shops jutting out on posts over the water, took in the slowness of Rawene and promptly texted home that I was coming to live here.
There's something special about the Hokianga that immediately captured my heart and mind. It's not just "olde world", there's also a modern, sophisticated, artistic unconventionality which has plenty of room for expression alongside a strong Maori identity plus small-town pace and wild scenery.
Rambling around Rawene and Kohukohu is enough for a weekend. I could have taken photos of old buildings, eaten local flounder on the veranda of the Boatshed Cafe and watched beautiful young locals riding their horses down the main street.
But I wanted to explore the flourishing local art scene and follow the Heart Trail, a brochure which guides you around Hokianga's natural resource - its creativity.
Artists and craftspeople went to the Hokianga in the 1970s when land was dirt cheap and there was certain feeling of lawlessness. I discovered a new generation of artists, some with surnames like Hotere and Albrecht, graduating from Northland Polytechnic.
Who would have thought a little place like Rawene would have such a strong visual arts school? And who would have known there were so many artists who managed to combine the remoteness of Hokianga with national and international art careers?
You can see their work at the Hokianga Art Gallery in the wedge-shaped wooden building at Rawene's main intersection which has a lovely, white-walled modern feel.
At the entrance is a carved wooden flying bird with dangling legs by Allan Gale, who is on the Hokianga Heart Trail. I picked a few other destinations too and headed off.
The Heart Trail took me off the beaten track to studios and places I would never otherwise have even known existed, meeting some amazing and talented people, all thoughtful, articulate and savvy. It's like a passport into one of Hokianga's parallel realities.
Some galleries are open all the time, but with working artists you need to ring first before inviting yourself over. First stop-off Opononi; I could have spent days on the verandah of Bev Truloff's Arty B & B Studio gazing at the vast, surreal sand dunes and the way they change colour from caramel - "raw sienna with a touch of rose madder" says Bev - to bright white depending on the light.
"Artists here are teaching a course that captures the spirit of the Hokianga," she says. "There's something quite special coming out of the arts community."
Chris and Liz Albrecht are two new creatives who migrated from Auckland property prices. By Hokianga standards, where they landed is fairly civilised - even though the road isn't sealed, it isn't bad driving. Chris, who designed this year's Heart Trail brochure, and Liz have transformed a rundown bungalow into a very cool place more stylish than most of Kingsland.
They take couch surfers, and have created a heritage-style cabin called Te Hermitage which in the middle of nowhere is humorously cool for budget travellers.
Then Allan Gale, one of my highlights of the Heart Trail. Don't be put off by the kilometre walk - it's beautiful and easy across paddocks and he might meet you at the gate and put you on his farm bike - a wild ride and you just have to go with it.
Allan Gale is a national treasure. He's the last resident on the famous Long Louis commune at Waiotemarama and has lived for 40 years on this extraordinarily dramatic and steep piece of bush.
"I was looking for somewhere to live where there was a bit of wood to carve." He got it.
You notice how deep the silence is - there's not even a refrigerator hum.
Allan's is clearly an unusual and creative mind that never ceases - everywhere you look is something interesting and beautiful, from enclosed gardens to his immaculately detailed wood carvings, Professor Branestawm creations and woodblock engravings.
You understand why his nickname is Snail when you realise he carried in or milled every bit of the house. The road comes out at Waimamaku which is like the Wild West. It seems like everyone has left, but modern botanical artist Beverley Cox and sculptor Will Ngakuru have studios here.
Back in Rawene, the car ferry takes 10 minutes to Kohukohu, close enough to swim on a hot day.
Kohukohu was a busy town before the timber ran out. I remember decaying Victorian grandeur and gardens growing rampant in vast annual rainfall. It's been tidied up, but judging by the state of a few original buildings, if it hadn't the town would have slipped beyond repair. At night, particularly, the romance returns and you slip into a kind of timelessness.
Kohukohu's Village Arts is another fine co-operative modern white wall gallery which last year exhibited a large work of local son Ralph Hotere (born at Mitimiti on the north coast).
Photographer Marg Morrow has an adjoining gallery, and her excellent pinhole camera photographs are moody, interesting images which capture time and change and erosion - Kohukohu themes.
Liz McAuliffe's reproduces seed pods and leaves but enlarges them - her carved and painted sunflower seeds look like over-sized organic barcodes.
In the garden of the fashion designer Lise Strathdee's 1889 Pink Villa, Floyd Cottage is the most stylish ex-vet surgery I have ever stayed in. I wanted to live there.
Lise is an improbable refugee from Milan high fashion - anything's possible in the Hokianga - and creator of the iconic Outpost Hokianga design shop in Rawene. For three weeks over the holidays, her pop-up store will open as an "installation" inside the Village Arts gallery.
I've seen only a fraction of the Heart Trail. There's still the legendary Wekaweka Valley ...
But that will be another weekend. Hokianga is known as "a place of returning" and I have definitely left my heart there.
Getting started:
* Hokianga Vehicle Ferry, car $16 one-way, $24 return
* Floyd Cottage, Beach Rd, Kohukohu, (09) 405 5707.
* The Arty Bed and Breakfast, 100 State Highway 12, Opononi, (09) 405 8046.
* Lighthouse Motel, 45 State Highway 12, Opononi, 0800 44 55 77.