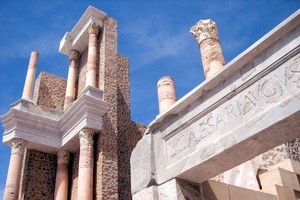 My husband and I are travelling to Spain for the first time. We'll start in Madrid, make our way across to the east coast and stay for four weeks in Denia. After Denia, we have another two weeks. The plan was to travel down the east coast via Gibraltar to Seville and, if possible, include a short visit to Morocco. Are we doing the right thing? Guidebooks seem to focus inland from Madrid to Toledo, Cordoba, Malaga and Seville.
- Jane Ranum
Lonely Planet's Sarah Bennett & Lee Slater write:
The inland route is popular for good reason, taking in the medieval jewel of Toledo, Renaissance gems Baeza and Ubeda, and the Islamic splendour of Cordoba and Granada.
The route down the east coast may be less travelled, but it's not without its charms. Our fellow Lonely Planet author Joesphine Quintero loves the unsung glory of the Murcia region: "It has many absorbing sights, lively workaday towns and the sizzling Costa Calida (Hot Coast)."
Other Murcia highlights include exploring the Roman and Carthaginian archaeological sites of Cartagena and hiking below the towering limestone peaks of the Parque Natural de Sierra Espuna. The laidback provincial capital of Murcia City is also worth a visit.
You can reach most places on Spain's excellent network of trains and buses. But for more flexibility, we recommend hiring a car.
You'll have to travel quickly if you want to squeeze in a visit Morocco. You can fly reasonably cheaply from Malaga to Marrakesh with Royal Air Maroc. Alternatively, you could catch the ferry to Tangier and then hop on a train to Fez before heading south-west to Marrakesh.
Europe's must-see cities
My parents and I want to spend 10 days getting from London to Rome. What must-see cities would you recommend and would it be better for us to join a tour or organise the travel via trains [ourselves]?
- Hayley Burbridge
We generally recommend independent travel, which gives you more flexibility and usually works out cheaper. Getting around by plane or train in Western Europe is quick and convenient, making it possible to visit around four cities in the time you have available.
Here are our picks: Paris has been a cultural capital for more than 1000 years and a couple of days there will allow you to explore some of its attractions. Edgy, vibrant Berlin is a grand capital. In Vienna, grand imperial palaces share the city with dynamic urban spaces and contemporary art. With its 117 islands, 150-odd canals and 400 bridges, Venice is a hauntingly beautiful place to get lost in. The Renaissance treasure trove of Florence had 18th- and 19th-century poets swooning.
The German rail website and seat61.com are excellent online resources for European train travel, while bargain flights can be found on hipmunk.com, cheapoair.com, kayak.com and skyscanner.net.
A tip: take overnight trains - you'll save money on accommodation and daylight for doing stuff.
* Hayley Burbridge will receive a copy of Lonely Planet Great Britain ($55) for her question.
Win a Lonely Planet guide book
Email your questions to travel.info@lonelyplanet.com and they'll be answered by Lonely Planet's experts. In addition, the best question each week will earn a Lonely Planet guidebook. Add your postal address and the guidebook you'd like to receive.
Not all questions are answered and Lonely Planet cannot correspond directly with readers.