In the frozen north of Scandinavia, Lapland is starting to look its seasonal best, says Chris Leadbeater.

WHAT'S THE ATTRACTION?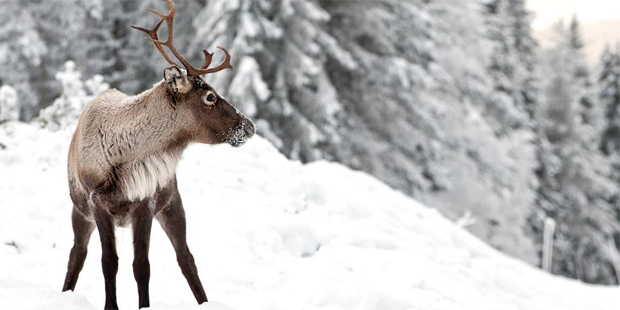 This northerly and ice-bound portion of Europe is surely the greatest destination for those who want to enjoy winter in its purest form.
The breezy appeal of Lapland - a grand expanse of frozen Arctic tundra, craggy mountains, dense forest and gap-toothed coast - is well defined. Even during winter, when the sun barely rises, holidaymakers flock to the region seeking everything from its frosty ski resorts and the spectral hues of the aurora borealis to the (spoiler alert) mystical figure of Santa Claus.
What is less delineated is Lapland's precise location. Officially, only Finland and Sweden refer to their uppermost reaches as Lapland. But the Saami Council - the representative body for the indigenous people who have long scratched a living from this Nordic end-zone - sees its remit as extending west into Norway and east into the first flourishes of Russia. In effect, any area of the Nordic landmass that lies above the Arctic Circle can be considered a part of Lapland - certainly in terms of appearance, atmosphere and spirit.
Despite this geographical confusion, information on travel to Lapland is plentiful - and available at visitfinland.com, laplandfinland.com, visitnorway.com, northernnorway.com, visitsweden.com and swedishlapland.com.
PAWS FOR THOUGHT
A team of huskies harnessed to a sledge is a classic symbol of Lapland's wintry charm. Endless specialists run hound-powered jaunts through the snow, but those who want to try the activity at its most challenging might be attracted to the Arctic Circle Dogsled Expedition run by Exodus. This one-week adventure takes in some of the least-visited corners of Arctic Sweden.
UP CLOSE WITH AURORA
Witnessing the aurora borealis is one of life's quasi-supernatural joys, and Lapland is a prime spot in which to catch the show. What's more, this winter has been forecast as a particularly bright period for the lights. Boost your viewing chances on one of the Northern Lights Flights departing from Spaceport Sweden, near Kiruna. These one-hour trips take you above the weather for a clear view.
IN THE WHITE HOUSE
Spectral hues aside, Lapland is also fascinating at ground level - particularly if you opt to go traditional and hole up in an igloo. Igloo Village Kakslauttanen, at Saariselka in Finnish Lapland, proffers a cluster of these icy dwellings, for €390 (NZ$683) per night, based on two sharing, half board. For less hardy souls, luxury glass igloos (which let you observe the night sky, and possibly the Northern Lights, from your bed) cost from €342 per night, room only.
PISTE BE WITH YOU
With its northerly latitudes, Lapland is a colder and snowier place for skiing than the Alps - the season can begin in October and end as late as June. Ski Lapland offers breaks to Finnish resorts such as Levi, Ruka and Ylls. The latter is the largest ski zone in Finland with 33 miles of pistes.
THE BIG THAW
As Europe's final frontier, Lapland is ripe for exploration - and not merely in the chill of winter. Anyone keen to crawl under the region's skin may be tempted by the Above the Arctic Circle tour, run by Explore. Participants sleep in basic camps, and tick off Sweden's Abisko National Park, Finland's Lake Inarijarvi and Norway's North Cape.
CITY IN THE SNOW
While much of the region is raw and wild, Lapland has its urban pockets - such as Tromso, its second-largest city (behind Russia's Murmansk). Perched on an island just off the north coast of Norway, it is popular with weekenders. There is the stunning iceberg-esque Arctic Cathedral, while the Polar Museum traces the Arctic explorers who have set off from here. Rooms at the Rica Ishavshotel start at NOK1295 (NZ$291), including breakfast.
DESPERATELY SEEKING SANTA
Geared towards children yet to learn the disappointing truth are numerous Lapland outlets where "Santa Claus" doles out presents to the faithful. Santa Claus Village, near Rovaniemi in Finnish Lapland, is practically a theme park, where festive glitz is laid on thick. Meanwhile, tiny, family-run Santa's Cottage will make even the most cynical of adults feel five years old again.
Packages to Santa's Lapland in Saariselka, Finland, are offered by Esprit.
Transun has a Santa hot-spot near Karesuvanto in Finland.
WHO SAID THAT?
"We, Saami, are one people, united in our own culture, language and history, living in areas which, since time immemorial, and up to historical times, we alone inhabited."
- Saami Council statement
"Oh our land, Finland, fatherland/ Echo loudly, golden word!/ No valley, no hill, no water, no shore more dear than this northern homeland/ This precious land of our fathers."
- Johan Ludvig Runeberg, Maamme (Finland's national anthem)
"If I'm your rose, you are my sun and rain/ And the Northern Lights will shine again and again."
- Ian Brown, Northern Lights
- INDEPENDENT