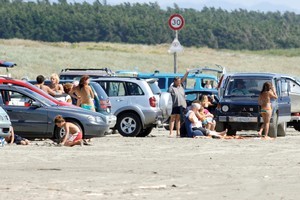 It's only six weeks until Christmas, the countdown has begun for the summer holidays and already some secondary school students have finished for the year.
But before you start daydreaming about days at the beach, on the boat or at the bach, you'd be wise to consider a few tips that'll help you have a holiday from heaven - not hell.
If you haven't already booked your accommodation or campsite, do so asap. Research your trip online or get some regional guides or maps from a tourism association.
When planning your trip, also note where public toilets and parks are and schedule them in, especially if you have young kids or pets travelling with you.
If you're heading away before Christmas, plan to leave the city before lunchtime on a Friday to avoid traffic jams on the motorway.
It's important that your vehicle is in tip-top condition, because the last thing you want is to be stuck on the side of the motorway with an overheated engine or a flat tyre.
Paul Nielson, director of Pt Chevalier's Mechanix auto repairer in Auckland, has some timely advice for holiday-makers:
1. Stay cool
Always have your cooling system checked before heading off on a trip.
Nielsen says for around $75 you can have the car's system flushed - and that will save you sitting on the side of the road, your car bonnet up and your family fuming. Plus, if the cooling system hasn't been maintained, it can cause thousands of dollars worth of repairs.
2. Tyre pressures
Check the tyre pressure of your vehicle and have the condition of the inside of the wheels checked: "Sometimes the only way you can check the inside of the tyre is by getting it up [at a mechanics' or tyre shop]," says Nielson.
3. I can see clearly now ...
Check the condition of the windscreen wipers (the rear one as well). "It only costs $20 a pair and sometimes we fail a car's Warrant of Fitness just because of wipers," Nielsen says.
4. Keep it clean
Fill up the water bottle for the wipers with a product such as Bar's Bugs windscreen cleaner (from $4.45). Water alone isn't enough, as you need soap to remove insects or dirt from your windows.
5. Keep up with regular services
If your car hasn't been maintained regularly, book it in for service - costing on average $300. "But book your vehicle in early, not a week or a few days before Christmas," says Nielson. "At that time of the year we're very busy and it's not the cheapest time as we don't have time to ring around a lot of places to find parts; we just want to get your car fixed."
6. Check what you're pulling
If you are towing a boat, caravan or trailer these holidays, make sure the vehicle's tyres - and spare - are in good condition and the pressure is correct. "Also check the trailer or caravan has its WOF and rego and the lights are working," says Nielson.
7. Don't forget the black stuff
Check your car's oil level a few days before the trip.
Hot summer ride
If you want to impress at the beach this summer, one hot ride is BMW's baby crossover, the X1. Priced from $58,400 for the 1.8-litre petrol to $77,900 for the 2.3-litre diesel and $83,500 for the top-of-the-range 2.5-litre petrol, the range has the x-factor. The five-door shares the same wheelbase as a 3-Series Touring but is 127mm taller, giving it an increased presence on the road. Inside, the rear seats split three ways, allowing storage capacity to grow from 420 to 1350 litres - great for handling all you need for a day at the beach.