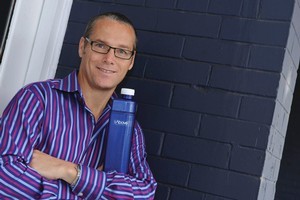 Entrepreneurs can find inspiration for their new businesses in the most surprising places.
Roger Boyd was a general manager at Fonterra Brands, working in Asia, Latin America and Oceania. He came up with the idea for his high-end aerotonic flight beverage on a plane journey from Miami to LA.
A man died during the journey and Boyd ended up sitting next to the doctor who had tried to save him. The medic told him all about the health issues of flying.
"It was a wake-up call for me. The way I was travelling was pretty average. I was often tired and dehydrated when flying," says Boyd.
That was 2001. In 2006 Boyd "worked up the gumption" to leave Fonterra, launching the business which trades as 1Above, in January 2007. Then it took almost four years to develop his idea.
For a product like this, research and development was crucial. The executive had Zymus International help with the product's formulation development.
The principal active ingredient in 1Above is a patented polyphenol extract, like those found in red wine, which clinical studies have shown can reduce the impact of jet lag and support the circulation. 1Above also claims to contain a balanced range of electrolytes to support hydration, 67 to 133 per cent of the body's daily B vitamins and 67 per cent of its daily vitamin C needs. The drink's water is sourced from the Blue Spring of the Te Waihou River.
"The key thing is hydration - a lot of people get up in the morning before flying, have a coffee, a diuretic, and dehydrate themselves," says Boyd.
The businessman is reaping the benefits of his labours. 1Above was launched through its own kiosk at Auckland International Airport in December 2010. It is located airside at Auckland International Terminal where the 1 litre bottles retail for $7.50 and the 600ml bottles for $5.50. The company has had 10 per cent month-on-month growth since launching the drink.
Boyd is talking to Australian companies to roll out the product to airports there and has been approached by hotels, Four Seasons Las Vegas and Claridges in London, about stocking the beverage. Around 55 per cent of hotel guests are sleep deprived, says Boyd.
The big turning point for 1Above has been the recent partnership deal signed recently with American airport retail company OTG Management. It will take 1Above into JFK and La Guardia Airports in New York, introducing the brand to 9.6 million travellers a year.
"Our partners have business in Chicago, Orlando, Philadelphia and Washington and are developing more markets all the time so there are definitely more opportunities for us," says Boyd.
The entrepreneur, who has worked with business incubator The Icehouse, has had external investment from private investors and is relaxed about giving up shares in the company to have the funding he needs.
"We did our very first capital raising in 2009 and we are taking on some more capital now to help with the New York push," he says.
Boyd is supported by a board which comprises Toby King, partner at investment bank Cameron Partners, Alistair De Raadt, managing director of Cadbury NZ, and Kiwi ex-pat Martin Moodie of TheMoodieReport.com, which gives real-time business intelligence on the global travel retail sector.
The board members are very involved.
"It's good for me, we have all got strong international experience but it's always good to have a sounding board when you are on your own."
With a staff of eight, there is now a need for more hands. Boyd is look-ing for an account/business development manager, a supply chain and operations person and a brands manager.