Frank Liew finds that behind the glitz and glamour in the City of Angels is a thriving independent scene.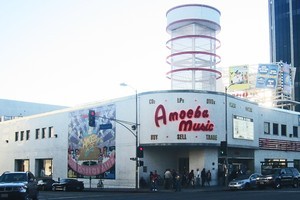 Ask anyone about Los Angeles, and inevitably shopping and movies will dominate the conversation. As two of the biggest cogs in the machine that powers LA, there's no shortage of gigantic shopping malls, such as The Grove and Beverly Center, or mainstream film destinations, such as the Kodak Theatre or Universal Studios. However, bubbling just under the surface is a thriving independent scene, away from the glare of Starbucks and chain-store mania.
If you've had enough of Hollywood and the faceless shopping malls, take note of these left-field film and shopping experiences in the city dedicated to consumers.
Shopping
Decades Vintage Couture
8214 Melrose Ave (upstairs)
If vintage shopping is your cup of tea, but sweating it out in op-shops, second-hand stores and open-air markets isn't, then a visit to Decades is in order.
It is an accidental career shift for its founder, ex-cabaret singer Cameron Silver, who began by simply looking for vintage men's clothes throughout his travels. His interest evolved into his own boutique on Melrose in 1996.
"More importantly, we're all about glamour," says the charismatic Cameron, who still scours private collections and estate sales all over the world for gems such as vintage Chanel jewellery, Gaultier blouses, and Hermes bags.
Today, many credit him as the man who made vintage couture chic in Hollywood, with clients including Nicole Kidman, Demi Moore, Renee Zellweger, and a bevvy of Hollywood's most powerful women, who fly him around the world to hunt for the latest addition to their wardrobes.
Driven by his memories and love of fashion throughout the 80s and 90s, Decades isn't only for the aloof Hollywood rich - prices start at $120, all the way to $80,000 for those looking for that one-of-a-kind piece.
If you want Cameron's styling advice, you don't need to be Hollywood elite, just walk in and ask for him, and he'll be more than happy to show you some of his favourite pieces tailored to your budget, and impart his expert advice.
Rosebowl Flea & Vintage Market
Pasadena Rosebowl Carpark, the second Sunday of every month
Touted as California's biggest flea market, stallholders assemble at the sprawling Pasadena Rosebowl, about a 30-minute drive from downtown Los Angeles. Catering for both serious collectors and casual shoppers, the earnest start arriving at 5.30am to see the stallholders unload their trucks full of vintage furniture, collectibles, clothing and shoes.
Separated into three main areas, it takes hours to walk through the hundreds of stalls, touting everything from old industrial workshop fixtures to curious vases and ornaments.
The thrift-shopper's paradise is a collection of hundreds of stalls selling vintage clothing. It's a good way to see LA's myriad fashion styles all in one place.
Plenty of designers admit to travelling to the Rosebowl just to gain inspiration by people-gazing. Make sure you take plenty of water if you head there in the summer - temperatures can rise to up to 40C on the tarmac.
Brentwood Country Mart
225 26th St, Santa Monica
If you're heading to Santa Monica to visit the pier or walk along the boardwalk, take a quick detour to the Brentwood Country Mart. The building has retained its original layout from 1948, housing an interesting mix of stores including some of its first tenants. There's the original "creamery" (icecream store), a general store, post office, candy store and shoe repair store, but in the mix you'll also find contemporary men's and women's fashion boutiques, a Monocle Magazine pop-up store, and a great little foodcourt featuring Reddi's fried chicken, claimed by many as the best chicken on the west side of LA.
Amoeba Music
6400 Sunset Blvd
This is Disneyland for music lovers, a love child between the fictitious Empire Records of '95 and Auckland's Real Groovy on steroids.
A palatial store and shrine to the music artform, Amoeba Music started in Berkley in 1990, and opened its Hollywood shop in 2001. Amoeba also hosts free shows in store, and acts such as Patti Smith, Elvis Costello, Ozzie Osborne, Paul McCartney, and even our very own Flight of the Conchords have graced its stage.
It's a total organic-music lover's experience, with not only records and merchandise for sale, but collectible editions, historic posters and memorabilia up on offer.
The staff DJ or select the music played in store every Wednesday, and a portion of every purchase goes to a selected charity, such as a South American rainforest preservation fund or to Japanese tsunami relief.
Movies
Cinespia - Hollywood Forever Film Viewings
6000 Santa Monica Blvd
What do Rudolph Valentino, Johnny Ramone, and Toto the dog have in common? They're all interred at the Hollywood Forever cemetery, in the heart of West Hollywood.
If you're not there during the day to visit the cemetery's intricate memorials and mausoleums, go to evening screenings of classic films on the Douglas Fairbank lawn. Starting at dusk, they can go until dawn, with DJs performing and hundreds of people on blankets with picnic baskets.
On some nights you'll find themed events - perhaps a horror marathon, Breakfast at Tiffany's, The Warriors, or Edward Scissorhands - where moviegoers are invited to dress to theme and be part of the festival.
Turn up early however, as this event has become one of Los Angeles' most popular independent film happenings during the spring and summer months. For a donation of $10 per entry, it's worth every cent.
The Silent Movie Theatre
611 N. Fairfax Ave
Keen for a quick trip through the time machine? Come and reminisce with Charlie Chaplin, Laurel & Hardy, Rudolph Valentino and Hollywood greats of yesteryear. A passion project of its founder in the 1940s, the Silent Movie Theatre today is possibly the only silent-film cinema in the US. It's a bizarre feeling being transported to a time of pure slapstick comedy and seeing how much can be conveyed by actors of that generation without the help of an audio track, although the live organ during the theatre's weekly silent film screening is a quaint touch to an already unique experience.
The New Beverly
7165 Beverly Boulevard
One of Los Angeles' longest-standing revival theatres, the New Beverly has hosted a non-stop barrage of indie, cult, foreign, and general left-field-type feature films, all in glorious 35mm film for the purists.
As an iconic film landmark for Angelenos, it almost faced a future as a Starbucks or Jamba Juice when rent skyrocketed in the West Hollywood/La Brea district when the area became the latest hipster-cum-cool hotspot. Enter patron and acclaimed director Quentin Tarantino who, as a fan of classic indie cult films, bought the New Beverly and its site to keep the theatre open and indie screenings alive.
Today, the theatre is one of a handful of cinemas across the country that still rolls out its programme as double features (with a quick intermission in between). It is worth the experience for a different side of Hollywood, especially if you're a little tired of all the blockbuster billboards that seem to be posted on every free square inch of building in the city.
LA's Top five
Flight Centre's Renee Macdonald is from LA and share's her top five must-do's when visiting the City of Angels:
1. Head to The Standard Hotel bar for a wine at the end of a busy day sightseeing. This unique rooftop bar features amazing panoramic views of downtown LA.
2. Get a taste of the city's Mexican heritage on Olvera St. Stroll past the old buildings, be serenaded by mariachi bands and enjoy authentic Mexican cuisine from one of the restaurants or sidewalk vendors.
3. Check out a concert at Hollywood Bowl. With anything from classical symphonies to rock legends there is something to suit everyone. Tickets are affordable and you can bring a picnic to eat under the stars.
4. Try a Pink's hotdog. With hundreds of hot dog combinations to choose from and a chilli-cheese dog that's famous worldwide, even the biggest celebrities are willing to wait in line. Family-owned for decades, this joint is an unofficial historic landmark.
5. The Grove Shopping Mall offers a great selection of mainstream stores and several restaurants from which you can people watch. This is a great place to catch celebrities shopping.

* For more information on LA, contact Renee Macdonald at Flight Centre on 0800 427 555.
Helpful tips
If you're planning a trip next year and are fearing that this article might not survive the test of time, get a copy of The Best Things To Do in LA: 1001 Great Ideas, by Joy Yoon (published by Rizzoli Books in the American spring next year ). It's a guide to some of the quirkiest and most interesting things to experience in the city of angels from a local's perspective.
Joy thrives on seeking out the weird and wonderful things that Los Angeles has to offer, and has detailed her 30-odd years of experience into one of the most comprehensive guides to the city.