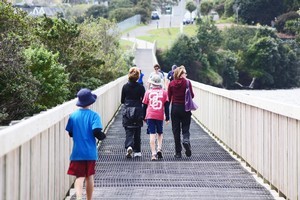 It's a sunny-ish day but some threatening clouds are lurking. I don't care, I'm keen to get outdoors. I've just finished Sarah Quigley's The Conductor, which is set in wartime Leningrad and in which the main characters subsist on thin cabbage soup during a long winter.
Back to the reassuringly warm, well-fed present, we park at the lower end of Upland Rd just up from Remuera's Palmers Gardenworld, on the corners of Shore and Orakei roads.
We walk down a pathway and suddenly the Orakei Basin is right in front of us, with an expansive stretch of grass in front. As this is an off-leash dog area there are lots of gorgeous, over-excited dogs that cannot believe their luck they can play here.
As always, when we go for a walk, my mother is leading the pack at a cracking pace. We head left towards Orakei Rd on a path which leads up past a boat ramp and becomes the main car entrance to the Orakei Basin. A closed-off bit of the walkway is still under construction.
In the meantime, we walk along Orakei Rd for a while, on the other side of the road from Kings Plant Barn, then follow the signs to a fabulous wooden boardwalk which crosses the Orakei Basin, running parallel with the railway. A train rattles noisily past, to the delight of the kids. If you want a quiet walk, this is not one to go on. But if you appreciate that this is an urban oasis, you'll enjoy it.
At the end of the boardwalk, we are given three options; to go up to Purewa Rd in Orakei, turn right to get to Meadowbank Rd, or right to Lucerne Rd via Orakei Creek Bridge. We take the Lucerne Rd option, our plan to get back to where we started.
For me it's a walk down memory lane. At the end of the boardwalk, if I look over to the other side of the Orakei Basin, running along Kepa Rd, I can see where I used to swim with my horse when I was a St Helier's Bay Pony Club brat. I can also see my old school, Baradene College, up on the hill, with some posh new buildings added since I was there.
This part of the pathway, leading to the Orakei Creek Bridge, is my favourite bit. It is lined with loads of native trees like puriri and kowhai. Just as we approach the Orakei Creek Bridge, there is a huge broken tree leaning into the water - black and white shags are chatting on its branches. A couple kayak past with barely a ripple.
After crossing the short bridge, there are a few steps up to what I think is Lucerne Rd. We cross the road and follow the path down and past the Auckland Water Ski Club boathouse. This is an older part of the walk. It's fun. You get to do some sticky-beaking at the lovely houses along Darwin Lane. We cross paths with some joggers more than once. If you were serious about fitness, you'd obviously do the circuit a couple of times.
We, on the other hand, get back to where we started and make the hard decision about which cafe to go to. The Benson Road Deli or the cafes at Palmers or Kings. BRD wins this time.
The walk is said to take approximately 60 minutes, but we do it at a fair old clip, more like 35 minutes. It's a perfect outing for locals and for visitors alike.