Frank Liew gets away from the torrid LA scene for a taste of Palm Springs peace.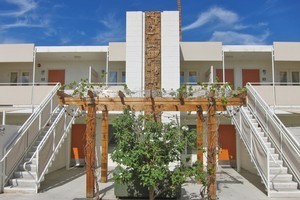 There's a joke in Los Angeles - you go to Palm Springs to die. Well, not literally, but it's an entirely different world; so close, yet so distant from one of the busiest cities in the US that you feel almost reborn by simply being there.
Two hours out in the middle of the desert and nestled between national parks and Native American reservations, locals flock to Palm Springs to get away from the torrid Los Angeles atmosphere.
Perfect for a day trip or a quick overnighter, Palm Springs is the great getaway for couples or a small family, and a chance to experience a total flipside to your LA vacation.
Driving out from LA, you're reminded of the barren landscape that met California's first settlers, with roads that stretch for miles to the dry, rocky horizon. Over past decades, however, it's been the getaway of Hollywood's stars. Celebrities such as the late Frank Sinatra and The Rat Pack, Dinah Shore, Sonny Bono, Humphrey Bogart and even the king himself, Elvis Presley, owned properties there and were known as frequent vacationers to the small desert township.
It's a different world, where one feels almost obligated to do nothing at all, and its inhabitants stillswear by the therapeutic qualities of the dry desert heat, once considered a healing property bythe Native Americans who initially inhabited the land.
Vintage shopping
Palm Springs boasts some of the best finds for thrift-store fans. Fashionistas and antique hunters regularly flock here and to Coachella Valley to seek out treasures, then take them back to LA for resale or for their private collections. Whether you're looking for a genuine poodle skirt, leather jacket, Western made-in-the-US attire, or that vintage lamp, most vintage stores are in the downtown Palm Springs area. You can venture out into Coachella Valley to find the more obscure stores dotted randomly along the desert highways towards the national parks.
Biggest dinosaurs
On the way to Palm Springs from Los Angeles, at a spot called Cabazon, you'll notice two gigantic concrete dinosaurs behind a truck stop beside the motorway. "Dinny" and "Rex" were hand built by sculptor Claude Bell of Knott's Berry Farm in the 60s, taking more than 11 years to complete in an effort to promote his diner, the Wheel Inn cafe. Featured in cult movie Pee Wee's Big Adventure, they're also a freeway landmark for those travelling east on the I-10, although many have admitted never stopping to see the dinosaurs up close. Today, however, the dinosaurs act as the front for one of the most bizarre mini-theme parks you'll ever encounter and a grand example of "weird americana" - a park built by creationists dedicated to disproving the theory of evolution, that dinosaurs inhabited the world with men, and that they were saved by Noah on his ark. It's worth the US$6 ($7.50) just to hear the theories. Just try to keep a straight face.
Aerial Tramway
Aboard one of the steepest tram rides in the world, you can go from the desert to mountains in a matter of minutes. At some times of the year you can be standing in near-40-degree dry desert heat, and 15 minutes later, have your feet in the snow. A rotating tramcar climbs an impressive 1830m up Mount San Jacinto and, once you get to the top, you're treated to breathtaking views of the desert below and the mountain ranges above. Pick one of the trails to hike or have a play in the snow. A great experience and a quick way to chill after the desert heat. Price: US$24 per adult, $17 per child (ages 3-12).
Joshua Tree Park
Palm Springs is surrounded by some of the most beautiful national parks of the West Coast, including the infamous Joshua Tree; a place that has turned into a pop culture icon referenced in music, film and literature for its natural and spiritual influence on visitors. Located about an hour's drive north of Palm Springs, the park offers spectacular desert panoramas and plenty of outdoor activities - hiking, rock climbing, star gazing and camping. Surrounded by Joshua trees and millennia-old rock formations that jut out randomly, you get the feeling of being transported to another planet. Put aside a good half day to explore this national park to appreciate its full value, from the Joshua Tree "plantations" to the panoramic views of the San Bernadino mountain range from Key View. Price: US$15 a car.
Traveller's tips
How to get there: Rent a car, and head out of downtown LA east on the I-10 freeway for about two hours.
Where to stay: The Ace Hotel, Palm Springs.
The Ace is a superbly designed modern boutique hotel, catering to the more contemporary traveller. The property is designed with an outdoor/
desert camper retro theme and you can lie by the pool or relax by your private fireplace. Do try the grilled cheese sandwich at its in-house diner, a converted Denny's.