With all the recent changes Alexia Santamaria discovers the city has a definite cosmopolitan feel.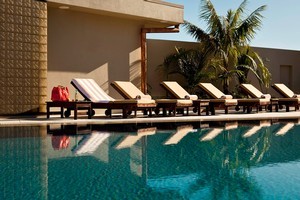 As a suburban teenager, one of my favourite pastimes was going into the CBD with my mates but as an adult my visits tend to be more purpose-driven. It's very rare to just go and "hang out in town" like we used to, but this weekend we did. The only difference is that the city has changed so much in the last year that it was almost like being a tourist in our own town.
We checked in at the Langham, Auckland. As it has just been voted one of the top three hotels in Oceania in the Conde Nast Traveler Selects Awards, we knew we were in for a treat. We walked down Upper Queen St, past the Asian food mile, past some young boys break-dancing in Aotea Square (noting the new terrace cafe, Box, overlooking the square), through Elliot St (now all cobblestoned) and into the new and very improved Federal St.
We popped into the recently opened Red Hummingbird. Inside it's the standard cool urban bar but the outside has a green "living wall" of plants, a giant birdcage and tables for a drink and a quiet bite. The menu is small plates/tapas (antipasto, calamari, etc) with some great Kiwi classics thrown in for a laugh - reduced cream and onion dip or gourmet sausage roll anyone?
We couldn't go past Al Brown's new place, the Depot, and decadently stopped for some freshly shucked oysters, smoked kahawai cakes, lamb ribs with skordalia and a beer. The Depot is fantastic in every way. Al says it's bachy New Zealand style but we definitely got a New York feel from it. A must-visit.
Nostalgically we cruised around, my husband pointing out the spacey parlours in Mid-City he used to frequent. We took a free city link bus back to the Langham and after a wee nap it was time for dinner at Eight. Be prepared to re-think your ideas on buffets with this one. Fresh seafood or cuts of meat cooked in front of you; sushi and sashimi to die for; a choice of great salads; sumptuous curries and naan bread made fresh-to-order in giant tandoors; a huge range of desserts; and the divine chocolate fountain. Amazing.
The next morning after breakfast we checked out the facilities. The Langham has a great rooftop pool and spa with sauna, steam room, snail shower and ice option to rev up your circulation.
Then it was off downtown, into the Viaduct and across the bridge to North Wharf. There are nine new eateries there but after gorging on breakfast at the Langham, we could only contemplate a gelato from Gelatiamo and a coffee from Rushworth, which were both excellent. Even sans enfants, we had to give the tram a go. It's a cute ride around that part of town in an 85-year-old Melbourne tram.
There was only one other new area to explore and that was Britomart. The bars and restaurants are excellent here. Having worked up an appetite we went to our favourite, Cafe Hanoi, which was fabulous as always. We love Agents & Merchants and Racket but it did seem like the day for a drink outside with a view. Tyler St Garage's loft bar has stunning views of the harbour and a glass of bubbles there was a perfect way to finish our weekend.
If time and budget won't allow a jaunt to Melbourne or New York, there are certainly parts of Auckland that will compensate.
Traveller's tips:
The Langham Hotel, 83 Symonds St, (09) 379 5132.
Red Hummingbird, 84 Federal St, (09) 363 7078.
The Depot, 86 Federal St, (09) 363 7048.
North Wharf, Corner of Halsey and Jellicoe St, Freemans Bay, check out what you can do there.
Britomart, Quay St, Auckland.