Sydney is perfect for a girls' weekend away. Donna McIntyre happily leads the way, mixing outdoor pursuits with shopping and visits to some of the best cafes and restaurants the inner city has to offer.

Friday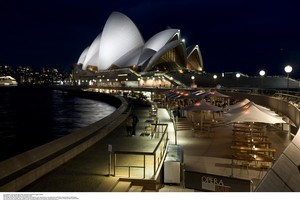 4.30pm: We arrive in Sydney and transfer to the refurbished Potts Point Mercure hotel. It's just around the corner from Kings Cross and we have time before dinner to check out the area, and happen across a great masseuse at Healthy Thai Massage.
6.30pm: Dinner at Gastro parK is more than a meal, it's a gastronomic experience. The friendly and knowledgeable staff tell us their chef Grant King hails from Invercargill. They recommend goat's milk snow for dessert ... it's not something I would usually pick but it's sensational ... it explodes and melts in the mouth at the same time. Being just off Kings Cross, there is lots of action to watch out the window, too.
Saturday
7.30am: Kristy Dempster from Scenic Fitness leads the way on a running tour of the waterfront through the Botanical Gardens and past the Sydney Opera House. Okay, it was tailored to more of a jogging/ power walking pace for us, but Kristy offers tips on a training plan to get me back into full stride and points out tips on posture and running styles.
I try to take this in while absorbing the beautiful views of the harbour bridge and opera house.
9.45am: We catch a cab to Paddington to meet "our personal stylist" Fleur for a Chic in the City fashion walking tour through Paddington and Woollahra. Fleur tells me my body shape and colours before we hit boutique shops where she gathers clothes she thinks might suit me and chats with the owners. There's no pressure to buy, but lots of temptation. There are lots of laughs, plus a glass of bubbles with designer Contessa Nicolaou while trying on her divine earrings.
1pm: Wised up on colours and clothing style, we make for the new Westfield Sydney shopping centre to practise shopping sans personal stylist. We are ladies who lunch at the centre's Quarter Twenty One and enjoy barramundi, plus some light but absolutely scrummy rhubarb sorbet.
5pm: We could have, should have, would have ... walked back to the hotel via Hyde Park and toured the Art Gallery of NSW ... but the shops were too good to leave before closing time.
6.30pm: A visit to the opera house is a must-do. And one of tonight's shows is innovative dance performance I Like This. The area around the opera house is buzzing as people make their way to a show,enjoy a drink or meal or simply promenade. We try one of the restaurants which make up theOpera Kitchen - another enjoyable meal andperfectly positioned for enjoying the harbour lights.
Sunday
9am: It's another beautiful day and Bondi Beach is today's destination. Just across from the beach is Trio Cafe where we breakfast on shakshouka (eggs poached in a tomato sauce), before heading to Bondi's Sunday market. Allow lots of time to browse the stalls - there's a great mix of designer and vintage clothing, retro furniture, crafts, art and jewellery, all at good prices.
1pm: With pressies sorted for the family back home, there's time for a walk on the beach. The place is humming with active types, and after admiring the view we take our not-so-toned bodies to the North Bondi Italian Food cafe. Lunch includes a side order of broccoli, steamed and enhanced with sliced garlic and chillies. Must try this at home.
3pm: Time to step outside my comfort zone with a lesson in stand-up paddle boarding with Let's Go Surfing. Lovely David from Florida has patience by the bucket-load as he talks me through the basics and eventually I stand on the board more often than I fall in the water. I can appreciate how people get hooked on this. Let's Go Surfing gives surf lessons as well as hiring boards.
6pm: We catch a taxi back to the hotel, but stop at Westfield Bondi to pick up a pair of NRL shorts for my teenager. I manage to leave my wallet in the taxi and realise it's missing as soon as I step into the hotel foyer, but the taxi has long gone. The friendly front desk staff at the Mercure phone the taxi company, but that's as much as we can do and decide to head out for a pre-booked dinner rather than sit around worrying.
6.30pm: And I am so glad I did. On Sunday nights the Victoria Room in Darlinghurst puts on a performance carnival for diners and people just enjoying a casual drink. Tonight's line-up includes a mentalist, a swing dance duo, musicians and performers with silks and an acrobatic pole.
Monday
7.30am: After a restless night kicking myself for leaving the wallet in the taxi, I rise early for another jog on the route Kristy showed me on Saturday. Exercise puts thing in perspective and I appreciate being in such a beautiful environment. I return to the hotel to learn my wallet has been found ... and thanks to the great hotel staff and Destination NSW, it's returned to me. The cash is gone, but I'm feeling so good about Sydney that I just hope the person who has it is enjoying it as much as I've enjoyed myself this weekend.
Get active
Scenic Fitness
ph (61) 402 263 941
Kristy Dempster
scenicfitness.com.au
Paddle boarding and surfing:
Let's Go Surfing
128 Ramgate Ave, North Bondi
ph (61) 2 9365 1800
Letsgosurfing.com.au/
Go shopping
Chic in the city
ph (61) 416 644 337
chicinthecitytours.com.au
Westfield Sydney
cnr Pitt St Mall and Market
ph (61) 2 8236 9200
westfield.com.au/sydney
Stay at
Mercure Sydney Potts Point
226 Victoria St, Potts Point
mercure.com
Donna McIntyre was hosted by Destination New South Wales and Potts Point Mercure Sydney.

Getting There
Fly there with Air New Zealand Book now
Find out more at Australia.com