Kirsten Warner takes a an East Coast Bays walk close to nature and to history.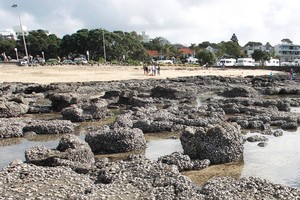 You don't have to go any real distance in Auckland for a great walk.
On Auckland's watery doorstep are the East Coast Bays, where you can walk for hours, hardly leaving the shoreline.
"It's stunningly beautiful," says walker Julie Sargisson. She had previously walked Devonport to Narrow Neck, but further up the bays was a revelation. "I've always thought of the East Coast Bays as built-up but there are lots of places where you get away from the big houses. It was surprising to discover how lovely it was alongside the Gulf."
From Long Bay to Devonport is a 23km, seven-hour hike rated hard, with some juggling around tides and possibly wading. The more manageable stretch from Mairangi Bay to Devonport (approx. 14 km) takes about four hours. You need to set off two or three hours before low tide, because there are two tricky points you otherwise won't get past. One is at St Leonard's Beach below Clifton Rd, Takapuna, where there is a small blowhole at high tide. The other is a narrow pass over a cutting in the rocks just before Castor Bay.
Otherwise it's an all-weather walk. Even on a fine weekend you will pass very few other walkers, apart from at the main beaches.
At Mairangi Bay, head south and the path is obvious, a concreted walkway across rocks. Be careful to adhere to council warnings as falling rocks are dangerous.
There is one road detour. It is easy to miss the path which takes off from secluded Castor Bay Esplanade up a steep track between gardens. If you keep walking and come to Wairau Creek, you've gone too far.
Backtrack and find the path to Beach Rd which drops down towards Milford Marina. It takes about 20 minutes to cross the bridge and loop back to the beach.
The millionaire's strand between Milford and Takapuna boasts an astounding amount of glass and concrete real estate, with glimpses of peaceful baches, cottages and art deco houses of the past.
It is well worth taking the former North Shore City's Takapuna-Milford heritage guide with you. Black volcanic rock in curious forms flowed from the eruption of Lake Pupuke 100,000 years ago. You can find gas circles, a 1.6m wide hole left by a burning kauri tree, and the outlines of leaves and branches caught in rock. In front of the Takapuna caravan park (proper name, Takapuna Beach Holiday Park), you can see remains of 500 tree stumps fossilised in the reef.
"To know that you're walking over a lava flow makes it really magic and mysterious rather than just going for a walk." says Julie, "and makes it seem that history is so near the surface in Auckland."
As you progress the vista changes. At low tide in warm weather, you can wade knee-deep across Cheltenham Beach which is so shallow you feel you could walk to Rangitoto Island. You can leave the beach at Cheltenham Rd, and cut through to Devonport. Or go up North Head to come down Takarunga Rd. There is also a path around North Head which comes out on rocks not far from the new Naval Museum (well worth a visit).
Then head along King Edward Parade and the Devonport waterfront, with the city, harbour and boat clubs on one side and lovely old houses, cafes and galleries on the other. Buses connect back to Mairangi Bay or you can hop on the ferry back to the city.
Getting started
* With approximately 12 1/2 hours between tides, you have plenty of time, but consult a tide chart first.
* Wear comfortable clothes, walking shoes, carry water, snacks, raincoat, sunscreen and a hat.
* Refuel in style at Takapuna Beach Cafe and Store at the boat ramp (The Promenade); stop for icecreams at the Narrow Neck Beach Cafe (Old Lake Rd); sit seaside at Torpedo Bay Cafe at the new Navy Museum (King Edward parade).
* Toilets at all main beaches.