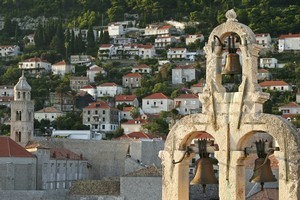 Seeing the beautiful coast route of the Nice to Cannes marathon on TV, my friend and I were inspired to do the 2012 run while our partners shop in Paris. Subsequently I was reminded of the beautiful Croatian city of Dubrovnik, where I believe Richard Burton romanced Liz Taylor. I've always wanted to go there. Can I combine both goals? Is Dubrovniks's Excelsior Hotel worth staying at? Naturally, the over-shopped women would join us.
- Murray Hunter
Lonely Planet's Sarah Bennett & Lee Slater write:
If you possess the stamina to tackle the Marathon des Alpes-Maritimes, hopping around the cities of Europe should be a doddle. Be sure to spend at least one night in Nice celebrating your achievement. It is packed with local bars and cafes: the labyrinthine streets of Vieux Nice, the old town, are a good place to start.
You can fly from Nice to Dubrovnik via a number of European travel hubs, but many of these options involve lengthy stopovers.
Your best bet is to head back to Paris and catch a flight from there - you'll need to help your partners with their excess baggage, after all. Getting to Paris from Nice is easy: it's around six hours on SNCF's comfortable TGV trains, or 90 minutes by plane. Great online deals from no-frills airlines like easyJet can make flying as cheap as going by rail.
From Paris' Charles de Gaulle airport, Croatia Airlines fly to Dubrovnik via Zagreb in around four hours, including connections.
Lord Byron was not overstating it when he described Dubrovnik as "the pearl of the Adriatic". It's a marvellous city, with baroque architecture and marble streets that are easily explored on foot.
Feedback on the Hotel Excelsior is pretty favourable, but there are many other places to stay for a similar price that have more character. The Pucic Palace is an opulent boutique hotel occupying an 18th-century noble's house in the heart of the old town, while another luxurious option is Hotel Kazbek on the pretty bay of Gruz, a few kilometres away.
* Murray Hunter will receive a copy of Lonely Planet's Discover France ($55) for his question.
Filling a day in LA
A friend and I are travelling to Las Vegas via Los Angeles, and want to drive there after spending a day in LA. We are both 24. What are our options for a rental car, and what is there to do in LA for a day?
- Tom
Lonely Planet's Sarah Bennett & Lee Slater write:
Most United States rental companies require that you have a major credit card, be at least 25 years old and hold a valid driving licence. You should be able to drive in the US with a New Zealand licence, but an International Driver Permit, available from the AA, is more credible when you're organising a rental or dealing with traffic police.
Some major rental companies such as Alamo, Budget and Hertz rent to people aged between 21 and 24, but there's an additional charge of about US$25-$30 ($32-$39) a day, and high-performance cars are normally off the menu.
Unless you're driving back to LA, you'll also get stung for dropping the car off in a different place to where you picked it up. This could set you back another US$150.
If you're on a tight budget, travelling by bus is a good option. Greyhound runs about 10 services a day to Las Vegas and costs as little as US$42 one way when you book online. Flying can also be surprisingly cheap if you book far enough ahead. Compare flights on Hipmunk.
As for your day out in LA, distances are ginormous, so don't try to pack too much in. A busy but stellar day could start with fuelling up at a diner, followed by star-searching on the Walk of Fame along the revitalised Hollywood Blvd. Up your chances of spotting real celebs by hitting the boutiques on paparazzi-infested Robertson Blvd, then drive to the lofty Getty Centre for high art and great architecture. Late afternoon, head to Venice Boardwalk, the city's centre of counter-culture, before watching the sun set over the ocean in Santa Monica.
Lonely Planet's guides to LA and California give you the lowdown on the world's entertainment capital, while the Thorn Tree forum on lonelyplanet.com dishes the dirt.
Win a Lonely Planet guidebook
Email your questions to travel.info@lonelyplanet.com and they'll be answered by Lonely Planet's experts. In addition, the best question each week will earn a Lonely Planet guidebook. Add your postal address and the guidebook you'd like to receive.
Not all questions are answered and Lonely Planet cannot correspond directly with readers.