China's revolution is unveiled on a cruise into the enigma that is Chongqing.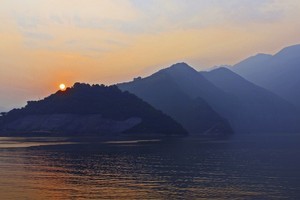 Chongqing, China - population 32 million. The emerging megalopolis on the upper reaches of the Yangtze River would be overlooked by most people if the question was "What's the biggest city of the planet?"
And while the West was dazzled by Shanghai's World Expo energy and Beijing's Olympic profile, a revolution with just as much impact as China's turbulent past is taking place miles inland on Asia's longest river.
Our journey begins at Wuhan, a sprawling city of eight million that's also failed to make any significant impact on Western consciousness. Installed in our five-star cabin, we're soon cruising under Wuhan's Number One Bridge, the first bridge across the Yangtze in 1957. In 1995, eight bridges crossed the river, and now there's more than 100.
Life on the Century Sky soon assumes its own relaxing routine with a cinematic scroll drifting past outside. One hour later it's an airbrushed landscape straight from a Chinese epic. Further upstream a coal-fired power station presents an image from a Great Leap Forward propaganda film.
On board, equilibrium is maintained with cocktail hours, excellent food and service from 156 staff totally out of sync with China's communist past. The most important country of the 21st-century is learning fast.
The benchmark for service is the incomparable Entertainment Director, Shirley Li. Bingo night with Shirley is a thing of joy, and armed with a hastily-Googled list she throws herself into the task of bingo mistress.
Unfortunately, no one's told her that each phrase should be used separately, so we're treated to a stream of consciousness-like commentary with Zen gems like "number 3 - monkey on a tree".
When the inevitable "number 69" is announced, Shirley outdoes herself with an extended, "The same both ways, your place or mine, meal for two, the French Connection, yum yum".
For all of the Century Sky's class, bingo on the boat reminds you that a night on the Yangtze is not the Rhine. Especially when the music is provided by a Bulgarian duo with set lists from the 1980s.
Luxury travel can be serious, but the Century Sky mixes luxury and levity to great effect.
After Yichang, another million-plus metropolis, the boat approaches the Three Gorges Dam. The self-glorifying poet in Chairman Mao once wrote:
Walls of stone will stand upstream to the west,
To hold back Wushan's clouds and rain,
Until a smooth lake rises in the narrow gorges.
The mountain goddess, if she is still there,
Will marvel at a world so changed.
Mao may have got it wrong with the battle between communism and capitalism, but just like the Great Wall, the Three Gorges Dam is another huge public works project from a culture that's often bold enough to go head to head with nature.
When the Three Gorges Dam project is completed in 2012, 1.3 million people will have been relocated, enough electricity to power four cities the size of Los Angeles will be generated, and up to 400 million people will be protected from devastating floods.
After rising through five massive locks on the Three Gorges Dam, the Yangtze narrows and small farms with a lifespan of just a few months drift past. Many of the farmers have been relocated to "new towns" built further up the banks of the river.
In the "new town" of Fengdu, we extricate ourselves from our group and hunt down a local market. Beyond the manicured town square with giant screens showing NBA basketball, we're soon in a noodle shop diving into scarily spicy Sichuan food.
A local shopkeeper welcomes us with a careful "good morning", before looking at her friend for validation. Her friend nods in quiet reassurance.
The river continues to narrow as the Century Sky enters the celebrated Three Gorges. Shuffling water taxis ferry locals past tourist boats, all adrift in the scenery combining sheer cliffs with riverside troops of curious monkeys.
We sense Chongqing before we see its misty Manhattan profile of jagged overgrown ridges and multiple bridges. On the opposite side of the riverbank, I struggle to read a billboard.
"Naissance of dream. New mobility."
It may be bad Chinglish, but in this boomtown thousands of kilometres from China's eastern shores, it's undeniably true. Welcome to the future.
Tour info
Viking River Cruise's 12 day Imperial Jewels of China programme also visits Shanghai, Beijing and Xi'an, site of the Terracotta Warriors. This year the line launched a new state-of-the-art ship in China, the Viking Emerald.
Brett Atkinson travelled to China courtesy of Viking River Cruises.