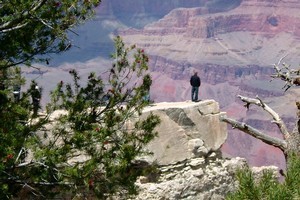 We are planning a North American trip with our five children aged 18-25. We thought if we flew via Los Angeles this would allow us to go to Las Vegas and the Grand Canyon. From there we would travel to New York, on to Niagara Falls and fly home from Vancouver. What is the best way to see the Grand Canyon? Can you suggest accommodation in New York and Las Vegas? How would you plan our New York visit to fit in the main sites? Could we drive to Niagara Falls from New York or are rental cars expensive?
- Wendy
Lonely Planet's Sarah Bennett and Lee Slater write:
This sounds like a great trip that'll give you a real insight into North America's diversity.
Vegas has 150,000 rooms at last count, so competition's fierce. See websites such as Vegas.com, Lasvegas.com and Travelzoo.com for deals.
Avoid weekends, as this is when the masses hit the strip and fewer bargains are on offer.
You'll need at least two rooms, which will bump costs up. You can consider a holiday-home rental via Lasvegasretreats.com.
Diving 1.6km deep and about 16km across, the Grand Canyon really is one of the world's natural wonders. There are plenty of viewpoints from which to survey the grandeur, but you'll get the most out of it on foot or hoof.
Mule rides are ideal for the less energetic but are hot, dusty and bumpy. The most popular walk is the Bright Angel Trail, but the South Kaibab is arguably the prettiest.
New York has always been an expensive place to stay, so the current exchange rate is good news for New Zealand travellers.
Hotel websites feature deals not usually quoted over the phone. There are also sites that specialise in Big Apple accommodation, including Justnewyorkhotels.com, Newyorkdealsonhotels.com and Nyc-hotels.net. Cheaper rooms can be found in non-trendy parts of Manhattan such as East Midtown, Brooklyn, Queens and New Jersey. The Newyorkpass.com offers savings on most of the city's attractions. Take a look at our answer posted on the Herald website in May for more details.
Niagara Falls is about six-and-a-half hours from New York by car. As a big group, you'll have to rent two large cars and pay extra if you're picking the cars up in one place and dropping them off in another. Domestic flights can be reasonable, so flying may be your best option. The closest airport to Niagara is Buffalo. You can also get there by train (nine hours) and by bus (nine to 11 hours).
But be sure you check out the Falls from the Canadian side, which has a far superior view.
* Wendy will receive a copy of Lonely Planet's United States guide ($69.99).
Dodge danger in Syria
I am trying to put together a link from Mumbai to Tehran and then on to Damascus by rail for my adult son and myself at the end of the year. Any hints on timetables and booking agencies?
- Liam Hatch
While it is possible to travel from Mumbai to Tehran by train, following in the footsteps of hippie trail travellers and Silk Route traders, it is a risky journey at present because of the uncertain security situation in Pakistan.
It's quicker and easier by plane. Air India, Jet Airways and Kingfisher all fly from Mumbai and hook up with Emirates' services to Tehran, one of the cheapest and most direct routes.
Flights can be compared on websites such as Hipmunk.com and Skyscanner.net.
Until the start of this year, it was reasonably safe to get from Tehran to Damascus by train. However, the security situation in Syria has deteriorated and the New Zealand Government advises against all travel there.
Visit Safetravel.govt.nz for more information.
Should circumstances improve dramatically, there is a weekly service to Damascus that leaves Tehran every Sunday.
This 60-hour journey takes you to Lake Van in Turkey, where you swap the train for a ferry.
On the other side of the lake, you board a Syrian train that rolls west along the Turkey-Syria border before heading south to Aleppo and finally into Damascus.
Timetables and fares are available at Tcdd.gov.tr, Raja.ir and Syrische-eisenbahn.de.
A great alternative is to hop on the Trans-Asia Express from Tehran to Istanbul.
You'll cover 3000km over three days in modern, air-conditioned trains with four-berth couchettes and a decent restaurant car.
At the end of the line is one of the world's most exciting cities.
Lonely Planet has guidebooks covering India and the Middle East, and an abundance of useful traveller tips on the Thorn Tree forum.
The Man in Seat 61 (Seat61.com) is another invaluable planning resource.
Win a Lonely Planet guide book
Email your questions to travel.info@lonelyplanet.com and they'll be answered by Lonely
Planet's experts. In addition, the best question each week will earn a Lonely Planet guidebook. Add your postal address and the guidebook you'd like to receive.
Not all questions are answered and Lonely Planet cannot correspond directly with readers.