Rick McKinley searches the Caribbean to see if it can top the seaside pleasures of home... and comes close.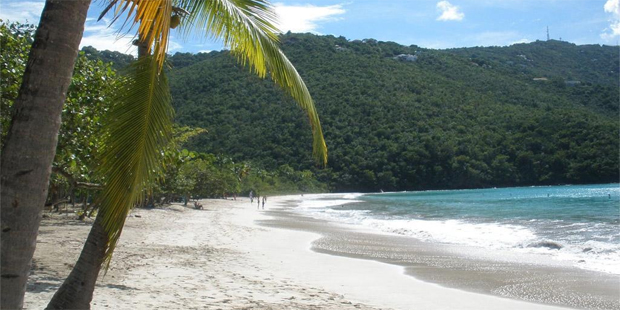 Where in the world could we find the perfect beach? A 10-out-of-10? Does it exist? Or had we already enjoyed the nearest thing to perfection right here in New Zealand?
In any event, seven days cruising the Caribbean, starting from San Juan in Puerto Rico, seemed an idyllic way to continue our quest - and we were soon to discover beachcomber heaven.
At our first port of call, St Thomas, we headed straight for Magens Bay, voted one of the world's top 10 beaches. We were not disappointed. Bush-clad hills provide a serene backdrop to the magnificent white-sand beach and grassy picnic areas.
Like our favourite beaches in New Zealand - New Chums (also in the world's top 10), Cathedral Cove and Whale Bay - Magens remains pristine and unspoilt.
Except for one thing - a rustic beach bar serving cheap beer and burgers. Definitely an asset for a great day at the beach.
The swimming was divine, although the water was too warm to be refreshing in the 30C heat.
This first taste of the Caribbean's azure waters definitely lived up to the picture-perfect postcard image and, as we boarded the small open-air bus to return to the ship, we agreed Magens Bay would be a hard act to follow.
Our next port of call was Dominica (not the Dominican Republic). The best beaches are at the opposite end of the island to the cruise port, so we opted for snorkelling at nearby Champagne Reef.
It proved to be aptly named, with bubbles rising from natural springs on the seabed. The reef covers an area of 30-40sq m quite close to the rocky shore - a far cry from the fine white sand of Magens Bay - but it provides a unique and memorable snorkelling experience, like swimming through a huge glass of champagne.
Next stop Barbados and secluded Hawksbill Beach, so-named because hundreds of small hawksbill turtles come ashore every evening to nest in the fine white sand. We had the short stretch of beach completely to ourselves, and it reminded us - apart from the vivid blue-green Caribbean Sea framed by sturdy palm trees - of Thorne's Bay, where we often swim on our walks from Milford to Takapuna.
Like Barbados, St Kitts offers a choice of beaches and we stopped at several before settling on St Friars Bay. Resisting the inviting Shipwreck Bar, handily sited where the road joins the beach, we walked the lovely strip of white sand in search of shade so we wouldn't sizzle in the midday sun.
Hurricane damage was clearly evident here, with beach cafes abandoned and left to the elements. Palm trees and grass umbrellas looked a little the worse for wear and we wondered if the recession had affected tourism. Then again, a new hotel was being built at the far end of the beach.
A long swim with a large, friendly turtle was an unexpected treat and justified the mask and snorkel as permanent fixtures in our backpack. The turtle seemed unfazed by my curiosity as he lazily mooched along in 2m of crystal-clear water.
After a couple of hours, resisting the bar no longer seemed an option. It was cleverly constructed of driftwood, fishing nets and rope and sold cheap local beer to complement the local delicacy of conch fritters.
In St Lucia, we joined the locals on a minivan bus which picked up and dropped off all the way to Rodney Beach. Another stretch of fine white sand and blue-green ocean, but this time houses, hotels and restaurants along the foreshore gave it a sophisticated feel. The local banana boat-ride operator complained about the lack of tourists, but it turned out he was home for the summer from his career job in London.
It was becoming clear that all Caribbean beaches are not created equal. What next? St Maarten, aka St Martin, is in the Netherlands' Antilles group of islands. Great Bay Beach - hardly an original name - is a convenient, short ferry ride from the cruise port.
It's the kind of well-designed beach resort we expected to find in this part of the world, with attractive shops painted in the pastel hues of the Caribbean, palm trees planted in just the right spots and beachfront cafes and bars producing a cacophony of jazz and reggae music, competing keenly for tourist dollars.
We were amused to be apprehended for wearing bikini and swim shorts in the main shopping street and shown to the casino to change into something more appropriate.
Italian shoes and designer sunglasses were on special.
Meanwhile, our 101,509-tonne cruise ship gleaming in the background was a constant reminder of our strict time limit.
And so it is with cruising. Each day a different port, with brief glimpses of paradise before sailing off into the sunset.
Different islands, different beaches, beachcomber heaven without a doubt. But had we found the perfect beach?
When you're on holiday in 30C heat, any beach is a welcome respite. It's also true that all the beaches we visited rated highly, but Magens Bay on St Thomas topped the list at nine out of 10.
In our book, it's right up there with New Chums.
Both are beautiful beaches. But somewhere in the world, there might be a 10. Tough though it had been, we returned home determined to continue our quest for the ultimate beach paradise.
CHECKLIST
Further information: The McKinleys took a Carnival Cruise on Carnival's Victory. See also celebritycruises.com.
Rick McKinley cruised under his own steam.