Marseille defies the old movie stereotypes to both delight and surprise.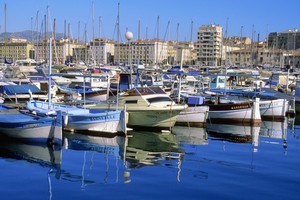 Marseille. To many the very name of France's second city resonates with images of gangsters glowering behind cupped cigarettes in dark alleys, daring jewel heists across rooftops or angry youths loitering on street corners. But as a fairly frequent visitor over the past decade I have come to ask myself, what was I thinking? Which movies had so coloured my interior landscape that the moody world of film noir had overtaken a reality which is sun-bathed and golden, where wild flowers cover the spring hillsides and families go about their daily lives in a multi-cultural, sea-encircled city that thankfully is largely left alone by the tourist hordes that have made so much of the Cote d'Azur a summertime hell.
Being met at the airport by my friend Nicole, and chattering all the way to her inner-city apartment, while absorbing through every pore that particular blend of sea, bright flat light and terracotta hillsides is a luxury. But as I have become more familiar with the inner city, I hop on the bus and am transported to Britomart's equivalent just behind the Saint-Charles station in downtown Marseilles.
I could of course get a taxi but instead I walk, pulling my trundler suitcase behind me.
I revel in a slow wander up the hill crossing the main street, la Canebiere, on the way. This grand boulevard in times gone by provided a boundary between the wealthy southern quarter and the more multi-cultural areas to the north and west. It is north I head, passing the prestigious Lycee Thiers where Nicole teaches the brightest of France's young stars and saying hello to my favourite statue in the world, a prancing muscular brute of a stallion by more stairs. Cavallo-San Marco, by Italian sculptor Ludovico de Luigi, is one of several scattered around the world, but I can't help but think under the aching blue of a spring Mediterranean sky is where he truly belongs.
Reaching the square at the top I pause in a dim cafe and await Nicole. This is the south, not Paris, so my stumbling attempts to order a Kir Royale are greeted kindly rather than with a sneer and the proprietor sits down to practise his rudimentary English while I do the same with my worse French.
The next day is like every day in May in this part of the world. Beautifully sunny and clear, warm but not too hot, and filled with the promises of delight in store.
Nicole has time off and offers a cornucopia of choices. We could wander round Le Panier, the old quartier dating from the 3rd century BC, still shabby although filled with National Heritage sites. Here I could renew my acquaintance with Hospice de la Vieille Charite, the stunningly beautiful 17th-century workhouse and its associated baroque chapel (designed by architect and sculptor Pierre Puget). This exquisitely restored monument to the mixed fortunes of this most historic of areas escaped centuries of neglect and most recently the Nazi decimation of the area one tragic day in 1943, to become the present cultural centre it is.
I could neglect culture and merely stock up on soap and scent from La Compagnie de Provence, one of the many generations-old family businesses that have made Marseille soap famous. We could just climb the stairs and wander the back alleys to a hole-in-the-wall chocolate shop the likes of which I had never seen before I was first taken.
After lunch at the locally rated Cafe des Espices on the car-free piazza behind the Mairie, (it has to be seafood in this part of the world), we head across city to one of Le Corbusier's apartment blocks, or in French a unite d'habitation. Cite Radieuse, built in 1952 as an answer to France's acute post-war housing shortage, was designed to house 1600 people in what Le Corbusier described as a "vertical village". What set it apart then - and now - was the concept that blocks such as these should be total communities, rather than just sleeping quarters. The nursery with its inadequate fencing on the roof is at present empty, and the garden spaces underneath given over to parking, but the details amaze me.
Here, the sliding windows are worn, the built-in furniture dated, but the genesis of the new world's love of mid-century architecture with its strong lines and rhythmic simplicity is as loud and clear to me as it is to the young black-clad architects who prowl the perimeters, cameras at the ready. I'm not staying here but from as little as €98 ($164) for a double room you can soak up the mood of the 50s from the inside out.
Nicole is back to work the next day, but I walk down to the Vieux-Port and board a boat to the island of If where the Chateau d'If stands sentinel over the Bay of Marseilles. This is a tourist excursion boat but I am the only non-French person on board. It seems we all want to hear about this fortress prison and the setting of Alexandre Dumas' The Count of Monte Cristo.
Such structures, and Marseille's warm and welcoming population whose history dates back to the 4th century BC, are what makes this ancient and lovely city such a wonderful destination. It is not until I sit on the hillside below the Notre-Dame de la Garde, the cathedral whose Madonna looks after all those in peril on the sea, that I realise once again I have merely scraped the surface.
TRAVELLERS' TIPS
Where to go:
* La Compagnie de Provence: 1 rue Caisserie, Le Panier, +33 4 91 56 20 94
* La Chocolatiere du Panier: 49 rue du Petit Puits, Le Panier, +33 4 91 91 79 90
* Hospice de la Vieille Charite: 2 rue de la Charite, Le Panier.
Where to stay:
hotellecorbusier.com

More information:
* Tourist Office: 4 la Canebiere, Marseille +33 8 26 50 05 00.
* Marseille Tourisme, info@marseille-tourisme.com
Cate Foster paid her own way to Marseille.