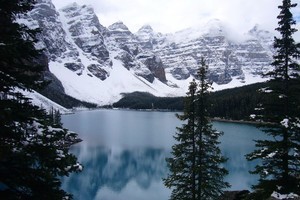 My husband and I would like to visit Canada next year. We have friends in Toronto, which should be our first stop, but we would also like to take in the Rockies and Alaska. What sort of time frame and month to go do you suggest, and what is the best way to get from Toronto to the other side or vice versa? Thanks for your help.
- Denise
High season in Canada runs from June through August when sunshine and warm weather prevails. Accommodation prices peak around this time, though. Crowds and prices drop off in the shoulder seasons (May and September to October). Temperatures are cool but still comfortable.
Assuming you've only got about a month to six weeks, we recommend flying from point to point. The Star Alliance flies to Toronto via San Francisco or LA and on to Vancouver. Cut-price Canadian domestic fares are also available with WestJet.
If you've got plenty of time on your hands, why not embark on an epic road trip along the Trans-Canada Highway? Toronto to Vancouver is a whopping 4400km and takes at least three weeks to complete comfortably.
You will, however, see some wondrous sights along the way, such as Lake Superior, Saskatchewan's big skies and, of course, the Rockies.
A more manageable two-week Rocky Mountains road trip starts at Vancouver and loops 2000km through British Columbia and Alberta, taking in five national parks. Great stops along the way include Golden, Banff and Jasper. On the way back, take a wine tour through pretty Okanagan Valley.
Save a few days for looking around Vancouver and its surrounds. The city ranks highly among the world's most liveable cities, thanks to its laid-back feel and enviable natural setting.
Two weeks in Alaska will allow you to chip only the smallest chunks of ice from its 1.5 million square kilometres. From Vancouver, fly to Anchorage to explore the lofty wilderness of Denali National Park, or Juneau to cruise the Inside Passage and its thousands of islands, glacier-filled fjords and mountainous coastline.
Getting to Ghana
I have a friend who lives in Ghana. What would be the best way to travel there on a budget and with a minimum of changes of plane? I am a stroke survivor and have limited mobility.
- Tony Hurrelbrinck
Cheap flights to Ghana aren't particularly easy to come by. The least painful routes to Accra, Ghana's capital, are with Emirates via Australia and Dubai, or with Qantas to Johannesburg, and onwards via South African Airways.
With the right connections and no delays, stopovers are limited to less than two hours each, but it's still at least 27 hours door-to-door.
When you book and check in, let the agent know you require assistance. Most airlines go out of their way to help. If you'd like more information, the Thorn Tree website forum has a branch dedicated to travellers with disabilities.
Once you're there, your money will go a long way. On a shoestring budget you could get away with between US$40 and US$60 ($48-$72) a day; a room may cost as little as US$15, while a feed of barbecued bat will set you back about a dollar. Although cedi is the national currency, US dollars, euros, UK pounds and travellers' cheques can be exchanged easily. ATMs accepting Visa and Mastercard are also widespread.
Ghanaian highlights include staring contests with bus-sized elephants in Mole National Park, touring the castles at Cape Coast and Elmina to learn about the history of slavery, and soaking up the high life of sprawling Accra.
Six-week Europe taster
I'd like to take a trip to Europe in early 2012. My priorities are London, Paris, Rome, Berlin and Vienna. But is it possible to complete this trip without too much rushing in four to six weeks?
- Jess
Take your cue from Theodore Roosevelt, who said: "With self-discipline, most anything is possible." It's easy and quick to get round Europe, especially by plane and train. You'll have to travel at a fair clip if you want to do it all in four weeks, but six will at least allow you to stop, catch your breath and savour these iconic cites. And with a bit of judicious planning, you should even be able to check out a few other sites along the way.
Almost all major airlines allow you to fly into one European hub and out of another. Once you're there, it's up to you how you travel between destinations. Flying is your quickest option, and with squadrons of budget airlines filling the skies, it can be very economical. Booking well in advance will help you find the best deals. You will, however, miss out on the romance of travelling by train.
Rail travel in Western Europe is pretty swift, too, especially on routes between major cities. Eurail passes are valid for unlimited travel in a number of different countries, but once you've included additional reservation fees and supplements, it's often cheaper to book individual tickets.
Eurail passes don't cover the UK either, so your best bet for the London-Paris leg is to look for a deal with Eurostar or a bargain flight.
It's easy to search train times and buy tickets on the French, German, Austrian and Italian rail websites.
Win a Lonely Planet guidebook
Email your questions to travel.info@lonelyplanet.com and they'll be answered by Lonely Planet's experts. In addition, the best question each week will earn a Lonely Planet guidebook. Add your postal address and the guidebook you'd like to receive.
Not all questions are answered and Lonely Planet cannot correspond directly with readers.