In Auckland's rural west, Kumeu is lavishly blessed with appetite-teasing treats.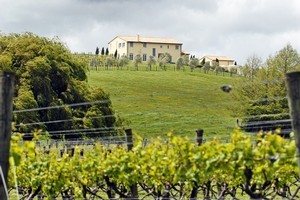 Kumeu is steeped in history, especially of wine, with many local vineyards dating back to the arrival of Croatians in New Zealand in the 1930s. For me and my husband, Bruce, the lure of the grape is enough to head west on a frosty Sunday morning, to discover the delights of this small country town only 25 minutes from central Auckland.
First stop is the Kumeu market, held monthly at Kumeu showgrounds. Local artisans peddle their wares and there are crafts galore, food from around the globe, mussel fritters, Belgian waffles, wood-fired pizza, French crepes, paella and my favourite, Hungarian fried bread puffs with delicious toppings.
The award-winning Soljans Estate Winery & Cafe is next on our list for a tasting, followed by coffee.
In 1927 Croatian Bartul Soljan arrived in West Auckland, where he planted the first Soljan vineyard and, today, his legacy proudly marks the entrance to Kumeu wine country.
I am sold on their Founders Tawny Port with its rich sultana nose, and am lucky to have a designated driver, so I can indulge.
Next is Kerr Farm's boutique winery, where I fall in love with their 2010 Bella Rosa Kumeu. Then it's on to Nobilo's to sample wines from Malborough, Hawke's Bay and my hometown of Gisborne.
I squeeze in a pared-back, but impressive, tasting at Coopers Creek Vineyard, before we head to lunch at Kumeu's newest restaurant, The Tasting Shed.
Our charming hosts, Ganesh and Jo Raj, explain the restaurant's philosophy of "a place where wine craves food", and inform us that their executive chef is Sara Simpson, formerly of Auckland's Clooney Restaurant and also Hawke's Bay's Craggy Range Winery Terroir Restaurant.
Needless to say, the food is a delight, our suggested wine matches are perfect, and the atmosphere relaxed and unpretentious. With no room for dessert, I'll return to try the lavender icecream, grilled brioche and Muriwai honey.
While lunch is settling, I enjoy a rummage at DeVine Clothing, a quirky store crammed with one-off samples and seconds, bags, belts, jewellery and hats, all at reasonable prices.
It's time for some sea air, so we take the road that winds out to the black sands of Muriwai beach, and the track that leads to a viewing platform for a gannet colony. Between August and March about 1200 pairs of gannets nest here. The birds' comings and goings make for entertaining viewing.
Back towards Kumeu, we visit Crescent Dairy Goats, a 5ha-plus family-owned and operated farm, to sample delicious award-winning cheeses. Organic principles are adhered to here, and owners John and Jan Walter make more than a dozen varieties of beautifully crafted cheeses, plus yoghurt and milk.
Gallery Q is our next port of call, where we meet Lena Nelson, art consultant, and Judy McIntosh, actor and winemaker, who is offering tastings of her delicious Kaipara wine.
The gallery features an eclectic mix of art by New Zealanders and overseas artists, plus produce from five local winemakers.
The sun has lost its warmth as we head to our final destination, the historic 153-year-old Riverhead Tavern, on the shores of the upper Waitemata Harbour.
Maori used this landing point as they crossed from the harbour overland to Kumeu and easier access to the far north.
A welcoming billow of smoke wafts from the tavern's chimney as we pull up, and as the late-afternoon sun fades into dusk, we cosy up by the fire, satisfied by an inspirational day in Kumeu's multicultural wine country.