Barcelona's blend of madness and good sense has Jamie Melbourne-Hayward entranced.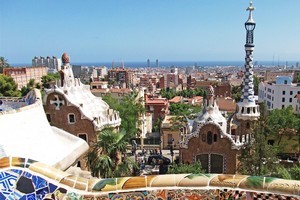 My friends teased me when I said I was moving to Barcelona to learn Spanish: "Sorry man, but there they speak Catalan."
After the 30-hour trip from New Zealand, my first priority was to hunt down a Catalan local and ask if they are really that different from other Spaniards.
Laughing, the first one replied: "No somos bichos raros!" (literally: "We are not strange insects").
Linguistically baffling, it was a confirmation of sorts, and from that moment my understanding of the Catalan people has grown.
Catalonia is a semi-autonomous state - with Barcelona as its capital - which stretches from France down to the state of Valencia. The Catalan language is a mix of Spanish and French. To ask for a coffee, for example, you say: "Un cafe amb llet, si us plau."
However, the universal language about town is the traditional Castellan Spanish, and growing numbers of people are also becoming fluent in English.
Of course, it wasn't just the language that drew me here. Barcelona has been home to an extraordinary array of international figures, including artistic prodigies like Pablo Picasso, Salvador Dali and Joan Miro.
Writer George Orwell adored the spirit of the Catalans when he came to fight fascism in the Spanish Civil War of 1936.
Writing from a hospital bed after he was shot in the neck, he said: "I have the most evil memories of Spain, but I have very few bad memories of Spaniards."
The book in which he recorded that comment, Homage to Catalonia, touches on some of the cultural differences that make this region so fascinating.
Spanish icons of bullfighting and flamenco are frowned upon here, but lip-smacking paella, human tower-building, and doses of anarchism and surrealism are right at home.
I arrived one year ago to sample these delights as one of the first New Zealanders to try out the new Spanish Working Holiday Visa.
The three months of navigating Spanish bureaucracy to receive an identity card (including having to register myself as homeless) drove me to near-madness, but I'm happy to report it was worth it.
I live in the central Gothic Quarter; a labyrinth where you stumble upon hidden gardens, art installations and musicians playing on balconies.
With Barcelona such a popular destination, boasting the most impressive beachfront of any large European city, my poor couch has been occupied by travellers almost since day one. Friends and visitors alike ask what my best experiences have been. I'll never forget watching forked lightning crackle over the Mediterranean, or gawking at the recently completed ceiling of the Sagrada Familia (128 years in the making), not to mention experiencing a football match at the modern-day colosseum of Camp Nou.
The influence of FC Barcelona is inescapable, and football stars like Lionel Messi and David Villa literally wear the region's heart on their shirt. Under fascist dictator Francisco Franco, one of the only public places you could see the banned Catalan flag was on the team's jersey.
Under Franco's reign, from 1936 to 1975, Catalan language and culture were suppressed, and since his death locals have fought to reassert their identity.
One law set to draw a line in the sand between Catalonia and the rest of Spain is the banning of bullfighting. This is the last summer anyone will see a bullfight in Barcelona, and if you do venture to the Monumental Bull Ring, you run the risk of being splattered with red paint by protesters.
The Catalans much prefer their own national sport: building towers of people.
Every summer in the Gothic Quarter's Plaza Sant Jaume, groups of "Castellers" compete to make the highest human tower.
In a sea of people packing the plaza, towers are constructed up to eight or nine people high.
Like Russian dolls, the participants get smaller as the tower grows, and the final climber is a 5-year-old child who scrambles to the top and waves with one hand before sliding back down.
Normally everything goes to plan, but last summer I saw an eight-person-high tower topple. The gasps of the usually deathly quiet crowd were unforgettable. Thankfully, no one was hurt - perhaps because a recent rule change requires the sky-high children to wear helmets.
This city cultivates a potent mixture of madness and good sense which the Catalans call: "La rauxa i la seny". A glorious example is the fact that it's legal to be completely naked in Catalonia, so long as you wear shoes if you are around town.
Barcelona is a sprawling open-air museum of this kind of thinking - from the mastery of Park Guell, to the 5km of sandy beaches imported from Egypt and the palm trees shipped over from Hawaii.
CHECKLIST
Getting there: All four daily Emirates flights from New Zealand connect at Dubai with the airline's service direct to Barcelona.
Further information: See the Spanish Tourism website or visit barcelonaturisme.com.
Jamie Melbourne-Hayward paid his own way to Barcelona.