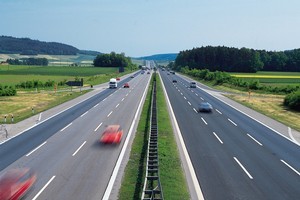 Roads to die for - in the best possible way. We round up five great driving roads:
Stelvio Pass, Italy
The second highest tarmac road in the Italian Alps (2757m) has 60 hairpin bends with the steep climb having almost no visibility for oncoming vehicles.
Jebel Hafeet Mountain Road, United Arab Emirates
One of the best roads in the world for driving.
It's nearly 12km long, climbs 1200m and has 60 corners and a billiard-table smooth surface. Almost race track-like, it is tight and technical with swooping curves.
The Millau Viaduct, France
Opened in 2004 it's the tallest car bridge in the world. It spans the River Tarn in southern France and curves over 20km to give drivers a better view.
At 341m at its highest point it is taller than the Eiffel Tower and just 40m shorter than the Empire state building.
Autobahns, Germany
The fastest roads in the world were built in the 1920s-30s and, unlike anywhere else in the world, have no speed limit. The first autobahn was also used as a race track and the German police will give you a ticket for going too slow in the fast lane.
Great Ocean Road, Australia
Not so much a road but more of an adventure as it starts from Geelong, Melbourne, and heads west towards the South Australian border. The 400km-long road follows the coast and was built by 3000 returned service men between 1919 and 1932 in honour of their fallen comrades in World War I.