It may be renowned for its waves, but Whangamata has other temptations.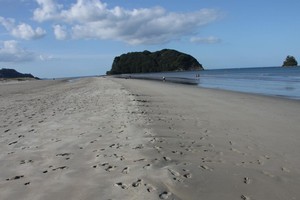 Braced for a session of winter surfing, my partner Bruce and his mate declared it was a good day for Whangamata. We girls went along for the ride, and a spot of shopping and eating while the boys were catching waves.
Whangamata is an easy two-hour drive from Auckland, across the Hauraki plains, over the Kopu bridge (we looked longingly at the new one being built beside the old single-lane version), and up over the Coromandel divide. Turn right at the bottom of the hill and wind your way down to this seaside town of 4000, which swells to about 50,000 souls at the height of the summer holidays.
Today, though, it's quiet. On arrival we make a beeline for the beach, which offers some of the best surf breaks in New Zealand, and hubby and friend speedily don their wetsuits, and head out to the bar. We leave the guys to their watery bliss and head into the town.
First, I'm on the search for good coffee and a snack, so my friend, who is a part-time local, takes me to one of her favourite haunts, Cafe Rossini, one of many village cafes scattered along the main street.
Fortified and ready for shopping, we pop next door to Funky Junction, a nifty little shop brimming with collectibles. After a good rummage, and a chat with owner and local Jill Carter, I'm off to explore the rest of Port Road. Whangamata's main shopping centre is charmingly eclectic. We check out Raw, which features New Zealand-made clothing including Huffer, Federation, Public Gallery and Sly Guild, and a few stores up is Bettie Monroe's quirky retro-inspired fashion label, also designed and made here.
Having got our fashion fix, we pop into Pete Murray's Surf Sup stand-up paddleboard shop, to check out what's for hire. There are several reasonably priced tuition packages, and although I'm tempted to brave the winter temperatures, I decide I'll wait until my summer visit. Lots of other operators are willing to take visitors to the great outdoors to go big game fishing, scuba diving, waterskiing, windsurfing, kayaking, biking and bush walking.
Next we head to Port Road Gallery, which is owned and run by Wales-born Christina Scurr, who combines her love of New Zealand art and picture framing in a business. In winter the gallery is closed on Mondays and Tuesdays, so Christina can go fishing - such is the joy of small-town living.
It's lunchtime already so we drop into the Lazy Lizard Cafe for more delicious coffee and home baking, and then head for the beach, for a leisurely walk from the south end, by the Otahu River Estuary, along the grass reserve to Otahu Point and a Maori burial site, which was last used in the 1940s. Our walk is striking, with views of Mayor and Clark Islands, and leads us to the northern end of the beach and the harbour entrance with its windsurfing and waterski lanes, boat ramp and children's playground.
The guys are out of the surf by the time we've finished our walk, so we all head to a local fish'n' chip shop to warm up. We drive to the Moana Point lookout to take in a panorama of Whangamata. As the day draws to a close, we decide we still have room for the highly recommended Soul Burgers. Afterwards, we wipe the last delicious burger crumbs from our mouths and the granules of sand from our feet, and head into the twilight, back to the big city lights.
TRAVELLERS' TIPS
Whangamata is about 160km, or two hours' drive, from Auckland's CBD.
Cafe Rossini: 646 Port Rd, (07) 865 6117
Lazy Lizard Cafe: 427 Port Rd, (07) 865 7340
Blue Fish Takeaways: 704 Port Rd, (07) 865 9005
Soul Burger: 441 Port Rd, (07) 865 8194
Raw: 603 Port Rd, 07 865 8005
Funky Junction: 644 Port Road, (07) 865 6918
Bettie Monroe: 439 Port Rd, (07) 865 8751
Port Road Gallery: 427 Port Rd, (07) 865 8865
SurfSup: Stand Up Paddle Boarding, Off Service Lane 5 next to Whanga Bar, (07) 865 9764 or 021 222 7309