Danielle Wright finds there's more than tourism on offer at a three-day showcase of the Pacific Islands at The Cloud.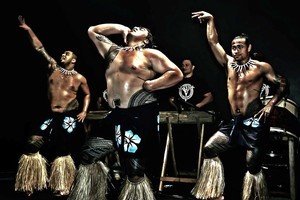 It's a big job to condense such a diverse group as the Pacific Island countries into one event. With 22 countries set in an ocean covering a quarter of the world's surface, the Pacific Showcase provides a good introduction to what you can expect from some of the lesser-known countries, as well as a round-up of new products and sights from the most-visited Pacific destinations.
"People think of the white sandy beaches and clear skies, but there's so much more to the region. We've brought together elements of the Pacific that people wouldn't know about if they hadn't done extensive travel there," says Markerita Poutasi, chief executive of the Pacific Co-operation Foundation.
The event celebrates 40 years of the Pacific Islands Forum, which, this year, is titled "converting potential into prosperity". Visitors to the show will be able to view a colourful Pacific Island marketplace and see cultural performances, cooking demonstrations and art by Pacific artists.
In the zone
The Cloud will have three zones:
Zone 1: Pacific tourism and exhibitors, from fashion, beauty, furniture and organic products, to live demonstrations of local arts and craft.
Zone 2: Music and dance performances from Tahiti, Cook Islands, Solomon Islands, Tokelau and Samoa.
Zone 3: Food and beverage exhibitors, cooking demonstrations three times daily.
Live Art Demonstrations
Sylvia Marsters, whose paintings often feature fish, frangipani, markets and the deep blue lagoons of the Cook Islands, will create artwork in public for the first time (Tuesday, September 6, 11.45am, 1.30pm and 4.30pm).
Fatu Feu'u will be beside her. Feu'u is widely regarded as the leader (or grandfather) of contemporary Pacific art. His work records his personal responses and interpretations of oral histories, myths, stories, songs, traditions and political events in and about Samoa.
Corey Weir is a guest artist at Auckland's Artrageous Tattoo Studio and has contributed designs to the fashion label Life Under Zen. He will create a Samoan Tatau, or "visual statement for life", of a Tongan emblem as a permanent necklace on one of his clients (Tuesday 11.45am, Wednesday 3.45pm and 7pm).
Traditional crafts will also be on display.
Cultural Performances
Music will come from Pacific musicians, such as Narasirato pan pipers from the Solomon Islands, a high-energy Tatau dance group from Samoa, Mbrace Pacific Dance from Samoa, Tahiti La Ora Dance Group showcasing Tahitian culture through traditional song and dance using traditional instruments and Ta'akoka Dance Troupe representing the Cook Islands.
Pacific Product Showcase
Look out for Hot! Samoan Boys' chilli sauce, which is made with village-grown Bird's eye chillies from rural Samoa; Pacific Green makes distinctive, eye-catching "furniture as art" using palmwood and inspired by the indigenous designs of the South Pacific; Mena is a fashion label, started by Samoan Mena Loheni and her four daughters, and now selling internationally.
There will also be health-food products, Cook Island pearls from Avaiki, 100 per cent organic coffee from Vanuatu, beers from the Pacific Islands, spices from Fiji Spice Gardens and beauty products.
A Taste of the Pacific
Me'a Kai: The Food and Flavours of the South Pacific by Robert Oliver with Tracy Berno and Shiri Ram was named the Best Cookbook in the World for 2010 at the Gourmand World Cookbook Awards.
That accolade alone should create enough curiosity to visit the showcase and see what makes Oliver so award-winning.
The book shares easy and delicious local foods, which are available off the typical tourist route, and Oliver's gourmet Pacific cuisine will be showcased in cooking demonstrations and sampling over the three-day event. There will also be a coffee shop, bar, juice shop and retail outlet selling products such as spices, jams and chutneys.
Times
The Pacific Showcase runs from September 6-8 at The Cloud on Queen's Wharf. Admission is free. Opening hours are Tuesday, September 6, 10am05.30pm; Wed, September 7, noon-8pm (includes night market); Thursday, September 8, 10am-4pm. Check out the website of phone (09) 969 1494 for more information.