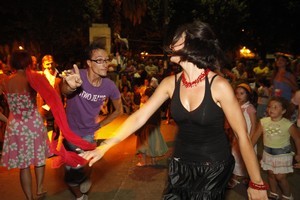 A forgotten brand of homegrown folk music known as the pizzica has turned the Italian region of Puglia into one of the most fashionable summer festival destinations in Europe.
A record 200,000 revellers - most of them young - attended this year's two-week series of concerts, which climaxed last night.
The re-emergence of the ancient musical form has prompted the Italian media to describe Puglia, in the southern heel of Italy, as offering an earthier musical rival to techno-dominated Ibiza.
Fast, hypnotic and tambourine-driven, pizzica derives from a centuries-old concoction of faith healing and peasant culture, mixed with a whiff of Italian voodoo.
The resurgence of pizzica has matched Puglia's rise as a magnet for film-makers and the hot holiday destination for Italy's cultural elite, not to mention a hang-out for celebrities such as Mick Jagger, Willem Dafoe - who had pizzica tunes played at his wedding in Puglia - and Helen Mirren.
The pizzica revival started in the early 1990s, when local aficionados held late-night parties modelled on the English raves gaining notoriety at the time.
The music was trance-like, but all similarities to house music stopped there.
"The legend is that pizzica was performed by itinerant musicians to help peasant women recover from a tarantula's bite," said Edoardo Winspeare, whose 1995 film Pizzicata helped bring the music's ritualistic, dervish-like rhythm and beseeching vocals to a new audience.
"At least that is the legend. The music dealt with a variety of illnesses at a time when there were few doctors.
"It was a form of exorcism or voodoo, where the woman danced herself into a trance as the music got faster to kill the 'spider' inside her. I remember one woman saying she did it to overcome the grief of her childdying."
Winspeare was turned on to Puglia's vanishing peasant cultureby an unlikely couple, Belgiansculptor Norman Mommens andhis wife, British writer PatienceGrey, who moved to the area in1970, putting up a stream of visiting artists and intellectuals and living off the land with no running water or fridge.
The first man to get serious about pizzica was Sergio Blasi, who founded La Notte della Taranta festival in 1998, drawing a few thousand to Melpignano, a town where locals still speak Griko, a dialect believed to be a holdover from the eighth century BC, when the ancient Greeks ran southern Italy.
Blasi was determined to bringit up to date and hired musiciansfrom other fields to manage themusical line-up, including the former Police drummer Stewart Copelandin 2003.
"When Copeland met the last of the great old pizzica players,Uccio Aloisi, they created a sparkthat was new but also traditional," said Blasi.
"The rhythm is distinctive and the melodies are like nursery rhymes - singable and really effective," said Copeland, who now tours Europe every summer with an Italian pizzica group.
"It's a canon rather like the blues or Christmas carols, with just a few main ingredients.
"But what makes it different to other ethnic music is that it's so robust. Metallica could play it and it would still be pizzica."
Copeland said pizzica was thriving because no one considered it an old man's folk music.
"The young studs down there play it to get laid and that's unusual - it takes a potent, living culture."
- OBSERVER