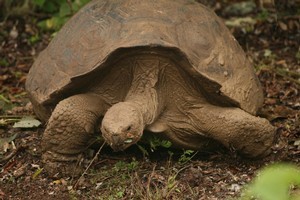 My partner and I are planning a trip to South America with an emphasis on the Galapagos Islands. We want to spend about two weeks on the islands on a tight budget. Our main interest is to get up close and personal with the wildlife, in particular the giant tortoises. We want to see as much as we can without feeling too rushed.
- Wade Heasman
Lonely Planet's Sarah Bennett and Lee Slater write:
The Galapagos Islands are one of the world's best places for watching wildlife, both above and below the sea.
There are 12 main islands and 12 smaller ones, only five of which are inhabited (population 30,000) and 97 per cent of the land area is a designated national park.
The archipelago is isolated, more than 1000km west of the Ecuadorian mainland. You will have to fly to one of two airports on the islands from either Quito or Guayaquil.
Most visitors tour the islands on an organised boat tour, usually booked in advance. Passengers sleep on board the boat, with trips lasting from three days to three weeks, although four to eight days are the most common. It is difficult to do the Galapagos justice on a tour of less than a week.
As you'd expect, the cheaper the tour the more cramped and basic the boat. It is possible to book boat tours when you get there, which can save you money. However, only the smaller, cheaper operators have space up for grabs and organising your berth may be tricky. It can take several days, sometimes a week, even with the assistance of a local.
It is possible to book directly with ship owners and thus save on agency commission but chances are you'll have to hang around on standby, which is fine if you have the time.
The El Chato Tortoise Reserve on Santa Cruz is a must-do. Other highlights listed in Lonely Planet's Ecuador & The Galapagos Islands guide are The Devil's Crown (Isla Floreana), the views from Darwin's Lake (Isla Isabela), and the dramatic cliffs of Isla Espanola.
It also recommends tour operators and provides booking tips.
Clear-cut path to Cuba
My son and his fiancee, who both live in the UK, have booked a holiday in Cuba, where they are going to get married, for March next year. Could you advise on the most direct route to get to Cuba from New Zealand, not going through the United States?
- Anne Parsons
Lonely Planet's Sarah Bennett & Lee Slater write:
Both fairly direct routes to Havana require at least two stops, and cross the Pacific Ocean to South America on Chile's LAN carrier from Auckland.
Option one is a direct flight to Sao Paolo in Brazil, followed by a direct flight on to Havana. Option two is a direct flight to Santiago, Chile, from where you connect with a flight to Panama and then on to Havana. If Canada takes your fancy, you could make a nice loop of it. After getting to Havana via South America you could fly direct with Air Canada to Toronto, then Vancouver, and direct back to Auckland from there (or do the reverse on the way there instead).
Or you could turn it into a world tour by, for example, flying Air NZ and Air France: Auckland to Paris, Paris to Cuba and home via option one or two above.