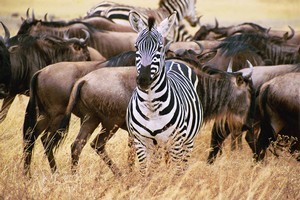 My girlfriend and I have dreamed of visiting Tanzania and Kenya during the annual wildebeest migrations. But all the local safari tours that I have researched are a lot more expensive than we can afford. Our aim is to take in the Ngorongoro Conservation Area, the Serengeti National Park and then go up into the Masai Mara National Park in Kenya. Would we be able to hire and drive a 4WD ourselves and see all these areas without blowing the budget on expensive safari tours?
- Dino
Lonely Planet's Sarah Bennett and Lee Slater write:
A DIY safari is a viable proposition in East Africa and has several advantages over organised safaris, including flexibility and independence. But organising your own safari will cost at least as much - often more - than going on a budget safari to the same areas.
One way to save money is to travel with other people, sharing vehicle costs. Lonely Planet's Thorn Tree Forum is a good place to look for travel partners.
Safaris are a hot topic on the forum so it's also a good place for tips and recommendations.
Vehicle breakdowns, accidents, security and a lack of local knowledge are common challenges. Maps for remote areas can be hard to find and, if you do break down in the wild, you're well and truly on your own.
Driving duties should be shared, as the person behind the wheel will have to watch the road, not the wildlife.
Camping safaris are a cheaper option and groups often stay outside the national park areas, saving park admission and camping fees. If you want something more substantial than canvas between you and the wildlife, there are also budget guesthouses close to the parks you want to visit.
Lonely Planet's East Africa guidebook has comprehensive listings.
Competition between "cheap" safari companies is fierce and corners are often cut. Unscrupulous operators may enter parks through side entrances, use glorified minibus drivers as guides, offer substandard food and run poorly maintained vehicles.
But there are many quality companies with excellent records.
When looking for an operator, do some serious research before booking and be sceptical of deals that sound too good to be true. They usually are.