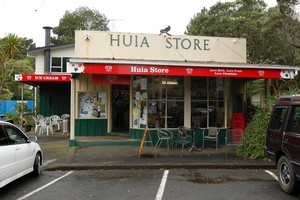 An afternoon drive to Huia will reveal some amazing picnic spots, picturesque bays and historical locations.
First stop is the Hardware Cafe in Titirangi for brunch, before turning left on to Huia Rd. A few kilometres on is Nihotupu Dam. Built in 1945, the dizzying height of water powering down the overflow is spectacular. At Parau, we spot the cute little Art Post Gallery, run by nine local artists in what was once the old Huia Post Office.
Next stop for the small person with us is Takaranga Reserve for a swing and a see-saw, while we enjoy the surrounding native bush, curious fantails, and sea views.
Armour Bay has free tennis courts to work off a picnic lunch, or you can stop at Cornwallis.
Here we are enamoured with the stunning coastline and views across to Mangere Mountain, Auckland's international airport, the Awhitu Peninsula and the Manukau Heads.
We find barbecue areas beneath large pagodas, which are available for hire. A Maori carving stands regally above the convergence of the West Coast's black sand, the white sand of Manukau Harbour and the red sands of the inlet.
In summer, this spot is popular for family picnics, with safe swimming, and shade under the pohutukawa trees that line the foreshore, while the wharf features a children's fishing competition each year in September. It's time for lunch, so we set our table under the pagodas.
Down the hill is Kakamatua Inlet, where dog lovers unleash their pets to play and forage along the stream and out into the tidal bay.
There are a variety of walks available throughout the Huia region, including the 3km Farley Track-Kakamatua Ridge-Parau track circuit. It takes about 2hours. The shortest track is the five-minute Orpheus walk to the graves of three soldiers who drowned in one of New Zealand's worst maritime disasters, when the HMS Orpheus foundered on the Manukau Harbour bar in 1863, with 189 lives lost.
We head on to Kaitarakihi and Huia Point lookouts, to take in more stunning views of the Manukau Harbour as it meets the Tasman Sea. Then it's past the Huia Store, and the offer of fish and chips, to the Huia Settlers Museum to peruse its wealth of history and treasures.
The final leg of our journey takes us through Huia Village and along a narrow, winding gravel road to Whatipu. Often windswept and dramatic, Whatipu is a mixture of wild West Coast beach, wetlands, and spectacular dunes and caves.
The wetlands are a breeding ground for endangered bird species, and although the beach is too wild for swimming, it's a favourite of fishermen.
One of the larger caves was used for formal dances during the timber-milling era in the early 20th century. They are said to have such good acoustics that bands have performed in them in more recent times.
If you decide you need more time to explore, there are plenty of places to stay, so your Sunday drive could morph into a weekend adventure.
Drive time
Whatipu is about 40km from downtown Auckland, or an hour's drive.
* Hardware Cafe, 421 Titirangi Rd, ph (09) 817 6177.
* Woodlands Park Superette, 295 Huia Rd.
* Huia Settlers Museum, 1252 Huia Rd, (09) 811 8971, nzmuseums.co.nz
* Information on the area, walks, accommodation, barbecue hirage etc: See cornwallis.org.nz or aucklandcouncil.govt.nz.