Cate Foster puts flowers in her hair and follows the hippie trail to the pukeko bridge and the charming Northland town of Kaiwaka.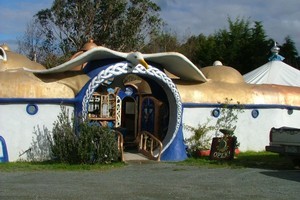 On the trail of my inner hippie I headed north one bright sunny day in early winter. I knew what I was looking for, but would I find it? I mused as Auckland's traffic died away and the familiar small towns appeared on my mental horizon.
My Northland begins at the pukeko bridge, that touch of elegant engineering whimsy more accurately called the Hillcrest Rd bridge. I'm reliably told it ends in a paddock but for me it will forever be the gateway to all things free and light-hearted. Strains of Steppenwolf's Born to be Wild and the theme tune to Easy Rider echo round my head. Drat! Where did I put that CD?
My first stop was for some live manuka honey from the Honey Centre off to the left of SH1 just south of Warkworth. Unfortunately the cafe was temporarily shut for refurbishment but I bought my (small) jar of 15+ manuka honey and lusted over the large kilo-sized ones of +20 strength.
An article pinned to the wall tells me recent research in Canada found that active manuka honey has four times the strength of certain antibiotics, and I am determined to give it a go.
I also couldn't resist the treat of choice from my youth - hokey pokey chunks - and, to counter the damage, a tube of Natural Propolis toothpaste. For good luck I toss in a bottle of Royal Jelly capsules as well. They might even help my weak and tired eyes, as promised on the Royal Jelly guff online.
Back on the highway north again I skirt Warkworth, for now I'm on a mission. A friend has told me of a new bread shop and cafe on the top of the Kaiwaka hill from which I buy a home-made loaf of five grain wholemeal soda bread. All the better to eat my honey on, I tell myself. The coffee smells good, but since today is the day when I am reliving my patchouli days I give it a miss, and head downhill a few hundred yards to a long-standing Kaiwaka institution, Cafe Eutopia.
Eccentric it may be with its interconnecting ferro-cement domes, hand-finished plasterwork and lazy daisy decorations, but it has certainly stood the test of time, especially since it long-preceded Middle-earth to which its architecture bears more than a passing resemblance. The coffee and toasted sandwich did the trick too.
Across the carpark I spent more money after half an hour drooling over the mature gouda at the Kaiwaka Cheese Shop; "The last cheese for miles" if the sign is to be believed. How the stuff that supermarkets sell as Gouda and the nectar of the gods stuff the Kaiwaka Cheese Shop sells even bears the same name defies my imagination.
I stock up well and drive on, musing that back in the day when ankle bells were the sound of music in Kaiwaka's hills, life was certainly cheaper - although definitely more spartan, if my memory serves me well.
Turning left down Mountain Rd a few kilometres further on, I head via the back roads towards my favourite organic shop in the world, Robbie and Rachel Hinsch's Sunshine Organics in Maungaturoto.
To my dismay I find that this fantastic shop, which has become a destination store for all lovers of inexpensive wholesomeness, is not open at the weekend, but they now have an online store. Not very homespun, but that's progress.
Turning south I find time for one last stop at Kaiwaka's Organics Heritage Garden Centre, formerly known as the Koanga Nursery.
I place an order for an apricot that fruits well in Auckland and drive on south to reach home just as the sunset lights up the CBD.
Essential info
The Honey Centre: 7 Perry Rd, south of Warkworth (just off SH1), ph (09) 425 8003. Open daily 8.30am to 5pm.
La Nonna Italian Bakery and Cafe: 1923C SH1 Kaiwaka, ph (09) 431 2643. Open Tues to Sunday 7am to 4pm
Kaiwaka Cheese Shop: 1957 SHI Kaiwaka, ph (09) 431 2195. Open Mon to Fri from 9am to 5pm and later on weekends.
Cafe Eutopia: Beside the Kaiwaka Cheese Shop, Kaiwaka Village, ph (09) 431 2999.
Kaiwaka Organics: 2395 SHI Kaiwaka, ph (09) 431 2732. Open daily 9am to 5pm.
Sunshine Organics: 141 Hurdnell St, Maungatoroto, ph (09) 431 8987. Open Mon to Fri from 9am to 5pm.