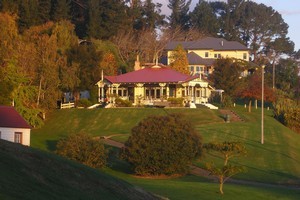 A siren howled as we drove into Te Aroha. We'd come for the mineral spas, the bushwalks, the op shops. What was the problem?
Before we could find out my vintage-shopping aficionado friend Ginnie and I checked into the charming Aroha Mountain Lodge, a 1920s B&B in keeping with the town's quaint style, tastefully decorated with a claw-foot bath, cosy rooms and restored furniture. Then we wandered to the picturesque Domain Cottage Cafe for lunch, looking out across the valley. No sign of an emergency.
So we hit the shops. The small Waikato town is an hour-20 minute's drive from Auckland, close to Paeroa and Morrinsville, in the Matamata-Piako District. It hasn't attracted many mainstream retailers, so op shops are its thing. For $5 I bought a Japanese soap dish, pottery honey jar and marmalade from the church shop. If only the car was big enough to take home all the beautiful cabinets, chairs and wine barrels at Restorations.
We soon discovered the siren sounds daily at 8am, 1pm and 5pm, a reminder of when to start work, take lunch and head to the pub.
It's one of many old-fashioned traditions in this old spa town. We were also amused to find a loudspeaker booms out across the villas and art deco buildings that line the street, advertising community events and local deals.
Everything in Te Aroha harks back to another time. In the early 1900s it was the country's top tourist destination, renowned for its naturally hot soda waters and Mokena geyser. Although Te Aroha has been somewhat overshadowed by its odiferous geothermal cousin Rotorua, there's the distinct feeling its quiet reserve harbours a deep community pride. The old sanatorium is now the local museum, sitting proudly in the Domain.
Even the local artists are obsessed by yesteryear. Just down the road from the Lodge is the Raewyn Penrose Originals felt gallery. Penrose is known throughout the felting community and regularly takes workshops in felting, one of the oldest textiles there is. "It's quite exciting, it's like painting with wool," she says, demonstrating the bizarre method of layering tiny portions of merino on to a bubblewrap base, and using soap flakes and hot water to manipulate the wool's fibres. It's more hygienic than felting's origins in Mongolia, when wool tents were treated with yak urine.
Then we visit Adrian Worsley of Historic Creations. The former fitter-welder has a mind-boggling workshop and gallery, and what must be the world's most organised collection of spare parts. Worsley creates clever sculptures and bespoke furniture out of scrap metal, which he sells throughout the country. Using everything from unwanted wrenches, spanners, tractor parts, spades and nails, he's made all sorts: a peacock, a lamp, a motorbike, even a working barbecue oven. Much of his ironwork is also displayed at Ironique, a popular casual restaurant we visit the next night.
Te Aroha may have an old-fashioned sensibility but it has its finger on the pulse when it comes to dining options. We started our first night with a pint with the locals at the Palace, one of two old taverns on the main strip, then headed for fine-dining at Berlusconi restaurant, set in a lovely restored 1920s building, where we feasted on snapper with potato and celeriac mash, pecorino cheese, watercress pesto and lemon butter sauce, and roast chicken breast on caramelized whitloof with pork crackling and red wine jus, (mains range from about $24-$34).
The over-indulgence was burned off the next morning with a trek through the Waiorongomai Valley in the Kaimai-Mamaku Forest Park. Te Aroha is well known for its bushwalks and mountain-biking, with screeds of trails and tracks, including a thigh-burning trek up Mt Te Aroha with views that stretch from Mt Taranaki to Matamata and the Coromandel. There's local excitement about the prospect of the national cycleway bringing thousands of cyclists through Te Aroha on the route from Paeroa to the Karangahake Gorge.
Our two-hour walk took us through stunning bush scenery, past old relics from the gold-mining days, including the Piako County Tramline, once used to transport carts of ore up the hill. Apparently the miners didn't find much gold, hence the locals' lament, O wrong am I.
On the drive back, we were so hungry we stopped in at the award-winning Frank's to pick up some gourmet sausages, then on to Te Aroha's quirkiest op-shop, Banco, for delicious mushrooms on toast. The town's old bank has been transformed into a cafe that also sells gorgeous second-hand trinkets, homewares and clothing. But it was our final experience, winding down at the Mineral Spa baths, soaking in a cedar tub in the town's famous silky soda waters, followed by a massage, that had us planning our return trip. Relaxation and getting back to nature is what Te Aroha is all about. Even if there's a siren going off in the background.
TE AROHA
Where to stay: The Aroha Mountain Lodge at the foot of the mountain offers excellent boutique accommodation ($135 a night, $175 with breakfast).
Things to do: Bookings are recommended at the Te Aroha Mineral Spas. A one-hour Romance Package includes private spa for two, towel hire, candlelights, drinks, chocolates and a rose ($110). Private spa hire, $12-$34). Ph 07 884 8717.
Upcoming events in Te Aroha include the Cruise In classic car day on October 1.
The Te Aroha Raceway has regular raceday events.
Take the heritage trail.
Pop into the Wallace Gallery in Morrinsville on the way home.