Kate Roff discovers a rebellious streak in the quaint Austrian town of Hallstatt.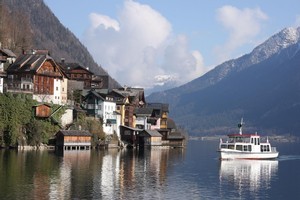 Austria is a land of contrasts. The grand capital, Vienna, hosts traditional balls alongside techno clubs and avant-garde art exhibitions.
State-of-the-art trains zoom around medieval ruins and Mozart's old haunts.
So it comes as no surprise that a 700-year-old town in Austria's centre is home to one of the latest, and edgiest, of ski sports.
In the heart of the Dachstein Salzkammergut region sits the adorable town of Hallstatt and it is here that the new sport of free skiing is taking off.
As we boat across the Hallstatt lake, the main way to reach the quaint town, it's easy to see why Hallstatt has been described as "a chocolate box village" - the cobble-stoned streets and charming architecture makes the town look like something out of a Christmas snow globe.
Nestled at the base of the Plassen Mountain, the houses hugging the mountain might look precariously balanced, but they have been wedged into the hillside for centuries.
Hallstatt celebrates 700 years as an official town this year, but the area is believed to have been settled more than 7000 years ago - making it older than Rome.
This kind of history carries prestige (not to mention a Unesco World Heritage Site listing) so it's a contrast of culture when we meet the young Sebastian Wiesauer, a free skiing expert who is to show us the adventurous side of this traditional region. Sebastian, like most in the area, learned to ski from a young age.
"Our parents would send us outside to play and we would make ski jumps out of snow banks," he recalls.
"It was how we amused ourselves."
Decked in bright orange snow pants, Sebastian takes us by cable car up into the stunning Krippenstein ski area; a playground for this popular new trend in skiing.
"Free-skiing is basically going off-piste," he explains.
"You don't have the groomed runs and it's a different world. You can do jumps and play around a lot more with it, you're not part of the crowd."
Krippenstein does have the more convenient groomed runs as well, so the area is bridging the gap between traditional skiers and free skiers.
"Relations are getting better. Free-skiers are a pretty easy-going group and a lot of traditional ski racers are getting into it."
Free-skiing in some ways, ironically, pays homage to the original skiers, adventurous types who dared to plummet down a mountain side without groomed runs.
"The first skiers were free skiers, they had no piste," says Sebastian.
Fortunately, today daring visitors don't have to be quite so reckless, guides like Sebastian know the area well and take groups free-skiing in relative safety. These guides are essential - the mountain can be a fickle creature indeed. A cross perched at the top of one of the peaks stands as a grim reminder of a school group in 1954 that ignored the locals' weather warnings. In the two days we ventured up to the top, we experienced one with almost zero visibility and another with brilliant postcard views over the towns below.
Krippenstein is not for the faint-hearted, but, with an 11km run from top to bottom, it is heaven for intermediate and advanced skiers. You can even ski down a glacier all the way back to Hallstatt. It's this freedom to set out and explore the region that attracts lovers of the latest ski sport and Sebastian wouldn't have it any other way.
"You just have to go," he says.
"It's an amazing feeling, like dancing or surfing."
In a rather philosophical moment, he says that aside from the adrenalin rush, free-skiing is about the isolation - enjoying the muffled hush of the snow-capped forest and getting back in touch with silence.
"Where else in this world do you find that sort of quiet?" he asks - revealing the traditional heart of this unconventional sport.
CHECKLIST
Getting there: The four-hour train from Vienna to Hallstatt runs regularly, some are direct and others involve a connection. Visit oebb.at for exact times and prices. A ferry meets every train at the Hallstatt station and takes you straight across the lake to the town and a public bus runs regularly from Hallstatt to the Krippenstien ski slopes.
Where to stay: Heritage Hotel offers a great respite after a day on the slopes. Heritage has several buildings in Halstatt - one in an ancient castle and another right on the lake - and is Halstatt's first four-star hotel. They have spacious rooms and hearty breakfasts to get you started.
Kate Roff paid her own way to Hallstatt.