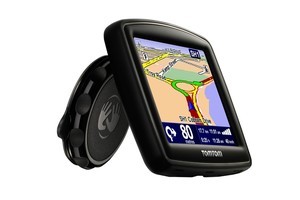 I took the TomTom Start 10 with me to Europe because it's very small and easy to pack. Small enough, in fact, that I thought that in places where I would be walking I could just slip it in my pocket in case I got lost.
It came pre-loaded with maps on New Zealand (RRP $249) and it was easy enough to go into the TomTom website and (at $98.18 a time) download maps of the British Isles and Greece. So far so good.
Unfortunately when I got to London Heathrow, collected our rental car and turned the TomTom on it seemed to think it was in Wellington.
The booklet told me I could change country maps at any time by clicking on the flag. Unfortunately there was no flag. In my mildly jetlagged state I didn't know what to do. Help.
Eventually I discovered, via TomTom's NZ agents, that to change the country maps I had to go into Options and then Advanced Options.
It turned out that the instruction booklet is designed for European TomToms which come pre-loaded with maps of of Europe and are set up differently.
Once the device got going it was fantastic. It greatly reduced the level of marital discord. And in one or two towns the TomTom came up with shortcuts that were simply magical.
Next time I go on a driving holiday in a foreign land I'll definitely take a GPS. But I'll also make sure I've got the right instructions.