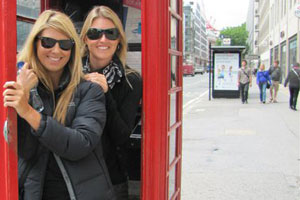 The soaring dollar is allowing Kiwis to travel further afield for their winter getaways - and the deals will only get better.
New Zealanders who might have previously holidayed in Queensland or the Cook Islands are now heading to the Americas or Asia, say travel agents.
The popular destinations this year are Vietnam, Thailand and Singapore.
The NZ dollar hit a new post-float high against the US this week, and Statistics NZ figures show the high dollar has translated into a 15 per cent increase in overseas trips in the past two years.
And in September and October, those who aren't glued to their TV screens for the Rugby World Cup should be able to pick up almost unprecedented deals, as airlines try to fill the planes that bring in international rugby fans.
Airlines are expected to offer cut-price fares to Kiwis who might be tempted to take a few weeks' holiday in the Northern Hemisphere.
Already this year, Malaysian Airlines and Royal Brunei have offered sub-$2000 return fares to the UK.
House of Travel retail manager Brent Thomas said empty seats needed to be sold, particularly during September.
"The closer it gets to the time of travel, the more urgency there will be to fill planes and hotels. If they don't sell, they don't get the revenue."
Airlines were working on cheap deals for long-haul flights, he said. "There are some specials, but I'm not in a position to disclose them. They're one week away."
However, not all in the industry were talking it up.
An Air NZ spokeswoman said the European summer was peak time for Kiwis to travel north, and the extra people coming in for the rugby would fix "a traditional imbalance".
But the record high dollar is fuelling a boost in short-term getaways. "People are spending less, travelling further for longer and doing more activities," Thomas said.
United Travel Takapuna owner Jeremy Shanahan said three-star accommodation in London which traditionally cost around $300 could now be picked up for under $200.
"Choice is determined by budget and people used to compromise on standards. Now they can stay more nights or in better-quality accommodation."
An industry source said rates for tour packages had been set before the high dollar and travel agents were "making hay" while they could. "Travellers won't see the benefits until 2012 when tour companies set their new rates," he said.
Auckland woman Gina McCarthy recently returned from a five-week trip to Europe and said she was pleasantly surprised when she received her credit-card bill.
She spent most of her holiday in basic hostels but was also able to stay in 4.5-star resorts with swimming pools. "My last trip to Europe was seven years ago and I couldn't believe how much further my money went this time. A good quality bottle of wine cost $6 in Spain and I went crazy clothes-shopping in Madrid and Lisbon. There's never been a better time to go."
McCarthy was already planning a trip to Italy and Greece next year.
Flight Centre product nation leader Dave Coombes said the usual numbers of people booked out on international flights during the rugby tournament was down by double-digit figures.
STA Travel air product manager Gary Chambers said one-way specials might be in the pipeline.
"The other issue will be how many New Zealanders want to leave the country during what will hopefully be a very exciting couple of months."
HIGH DOLLAR KEEPS THEM AWAY
It's not all good news for the travel industry - the high dollar is having the opposite effect on inbound tourism. An industry leader says numbers of overseas tourists coming to the country are lower than post 9/11.
The president of the Inbound Tour Operators Council, Brian Henderson, says the Christchurch earthquake, the Chilean ash cloud, Japanese tsunami and closure of the road to Milford have hit the industry hard.
The high dollar was putting off American visitors and Australians were travelling further afield. Poor snowfall early in the season here and good snowfall across the Tasman also made matters worse.
The general manager of Rotorua adventure company Agroventures, Melissa Mills, said numbers of tourists from the UK had dropped by 20 per cent and the US by 21 per cent.
The number of international visitors had dropped by 10 per cent overall. "For the first time our domestic market is as strong as our international market," Mills said.
"We've had to work smarter. We're holding our own but it's not an easy environment to work in."
Kea Campers' chief executive Grant Brady said traditional clients from Scandinavia, Germany and the Netherlands had been put off by high airfares and the surge for the Rugby World Cup would not make up the shortfall. September would be busier than October, Cup-final month.