Libby Nicholson-Moon takes a food lover's adventure tour.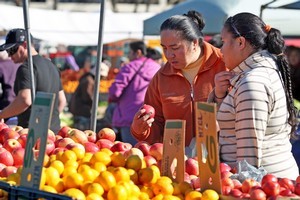 It's on a crisp winter's day, and Lynn Huhtala, the owner and operator of Finding Flavour, and her assistant Tuovi Peach, welcome our group of seven on board their tour bus.
First stop is the Otara markets, where an ethnic melting pot of stallholders and shoppers mingle and bustle for bargains. Our market guide, Melissa Cole, explains the produce and offers tips on cooking with Pacific Island vegetables. Twenty minutes later, Lynn orders us coffees from the Atomic coffee cart, and we taste some of the freshly made island delicacies. At Fresh Gallery I stock up on chillies, lemons and limes, all at amazing prices.
Next stop is Takanini, and MasterChef judge Simon Gault's upmarket importing business, Sous Chef, which offers artisan products from around the globe. Gault, who is every bit as charming and approachable as his TV persona, explains his products (complete with recipe suggestions) and offers us samples before inviting us into the warehouse.
My shopping bag now includes Italian cheese, cherry balsamic vinegar and smoked paprika.
I'm in foodie heaven, and we're only at the second venue.
Next is the Hungarian Delicatessen & Small Goods in Manurewa. This 20-year-old family business operates from a small licensed building at the back of the Muik family home. Owner and operator Istvan Muik Junior greets us, amid aromas of cured and smoked meats. The company specialises in game including Clevedon buffalo, ostrich, wild pork, and venison.
With our deli bounty secured, we're off to Sam Woo Vietnamese restaurant in Otahuhu for lunch. Tom Huynh and his family have been in the food game for nearly 20 years. We leave satiated, and head up the road to Food for Less. This Indian supermarket is vast, and store manager Dhirendra Sharma entertains us as he explains what the store has to offer: fresh produce, a Halal butcher, spices, fresh yoghurt and many other delights.
Our bags are bursting at the seams as we head over the road to Auckland Indian Sweets & Snacks. This family business was established in 1991, and includes a shop in Mt Roskill. Sheron Sen greets us with a plate of barfi. They also serve a daily selection of great savoury snacks and curries.
It's time to end our fantastic day and we head to Villa Maria Estate in Mangere to enjoy a relaxing wine tasting and stock up on award-winning wine.
All the places we visited are open to the general public, but the Finding Flavour tour was a nice way to share the experience without reading a map between venues.
FOOD TRAIL
Otara Market: Otara Town Centre, Saturdays 6am-noon.
Sous Chef: Unit 1, 84 Sparten Rd, Takanini, ph 09 269 6373.
Hungarian Delicatessen & Small Goods: 5 Hobman Place, Manurewa, ph 09 267 3510.
Sam Woo Vietnamese Restaurant: 15 Princes St, Otahuhu, ph 09 276 8226.
Food For Less: 64 Atkinson Ave, Otahuhu, ph 09 270 8902.
Auckland Indian Sweets and Snacks: 24 Avenue Rd, Otahuhu, ph 09 270 3275 and 852 Dominion Rd, Mt Roskill, ph 09 629 3275.
Villa Maria Estate: 118 Montgomerie Rd, Mangere, ph 09 225 0660.
* Finding Flavour - Discovery Tours For Foodies. Contact Lynn Huhtala, ph (09) 638 6067, 021 550 510.