Stylish travel tips for those in the know.
Mr & Mrs Smith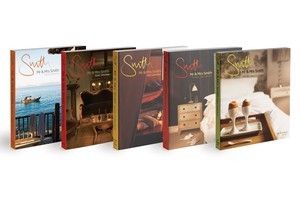 If you're looking for the creme de la creme of places to stay when you're travelling, boutique hotel experts Mr & Mrs Smith is the company to check out. They have done the leg work and made sure that the 800 hotels and self-catered properties they have on their books pass the glam test - from the quality of the linen to the way the cocktails are mixed at the bar. Also, check out its new iPhone app designed to help you plan the perfect romantic getaway. We love that it has the practical "Plan" mode and the naughty "Play" mode.
Taste guide
Funny and opinionated, Smart Mouth Eats Auckland is a new iPhone app guide to the cafes of our great city. Created by food and travel writer Leanne Kitchen and Auckland food marketer Antony Suvalko, it's the first in what they plan to be series of city guides. Be a tourist in your own town and use it discover new cafes and new corners of the city.
The best addresses in town
If anyone understands the truly discerning traveller it is Louis Vuitton - after all, this company has been making the finest of luggage for well over 100 years. When it comes to knowing the ins and outs of the world's most stylish cities, this is a company you can count on, that's why we love its annual city guides. From Milan to Mykanos, Basel to Deuville, Tel Aviv to Malaga, these guides are your key to the best 10,000-plus addresses in the world. Available from Louis Vuitton, 56 Queen St, City, ph (09) 358 5080.
Award-winning
Looking for a top place to stay close to home? Two New Zealand lodges featured highly in the latest Travel & Leisure World's Best 2011 Awards. The American magazine covers nine global regions for its annual awards and the ratings come via its readers. Taupo's Huka Lodge and The Lodge at Kauri Cliffs in Matauri Bay, Northland, both won prizes for the best service in the Australia, New Zealand and the South Pacific region, while Kauri Cliffs was also number 11 in the top 100 list.