Donna McIntyre puts her best foot forward and takes the scenic route through Auckland on a Coast to Coast walk.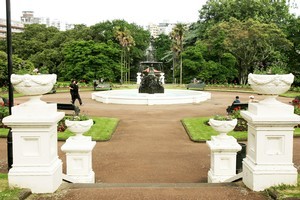 Auckland's Coast to Coast Walk is all about enjoying Auckland's great parks but it could never be described as a stroll in the park.
The 16km walk passes five volcanic sites and offers exceptional harbour and city views. And it's free and accessible to all walkers. It's also steeped in Maori history - Albert Park is the site of an old Maori village and both One Tree Hill (Maungakiekie) and Mt Eden (Maungawhau) were densely populated by Maori.
The walkway crosses the isthmus from harbour to harbour - Manukau to the Waitemata.
Starting from Onehunga follow the blue signs; from the Viaduct, the markers are yellow.
If you want to park your car and then walk, it is best to start in Onehunga where there is more free parking than in the CBD and then bus back.
Metrolink's Midtown to Otahuhu buses go through Onehunga and we jump off in Trafalgar St.
As we make our way down Normans Hill Rd to Onehunga Bay Reserve there's a great view over the wharf and Manukau Harbour. The neat thing about this city walk is you have time to appreciate different architectural styles, and Onehunga has some grand offerings.
From the official starting point at the lagoon, we return up Normans Hill Rd and Grey St to Jellicoe Park with its century-old trees, fountain, historic buildings and gardens. If you want to make a full day trip, you could bring your togs and duck into the heated pools by the park for a swim (especially good if Onehunga is the walk's finishing point).
The next park on the route is One Tree Hill. It is years since we walked to the top... the last time it probably still had one tree. At 183m high, the summit offers spectacular views. It's fun, too, to look into the crater and see what the latest say-it-with-rocks messages are... today's are about love and religion.
Back down the summit road (we pause to admire the people clever enough to buy houses backing on to a park) and through Olive and then Pohutukawa Groves, we dodge the traffic to cross the busy Green Lane to Cornwall Park.
We're almost halfway and I start to concur with a backpacker's blog I read: we both thought that this would be a walk in the park... but after six hours of climbing Auckland hills we have a new respect for our city's topography.
Moving on through Epsom we reach Melville Park, established during the make-work scheme of the 1930s Great Depression. But the best is yet to come as we take the walkway from Cecil Rd up many, many steps to the top of Mt Eden. At 196m, Mt Eden (Maungawhau) is the isthmus' highest summit and the summit crater is virtually unmodified. My leg muscles are screaming, so I take the chance to I stop to savour the view. From this angle, Eden Park looks impressive and primed to go for Rugby World Cup action, while over the CBD, there's a mesmerising post-rain sunlight shimmer over the city and harbour bridge.
Continuing on, we're heading for the Domain, but take a diversion into Outhwaite Park first. A sign on the park building advertises yoga classes here, and I can't think of a better place for a sun salute.
The feet keep walking - on auto pilot by this point - to the Domain, past the museum building standing guard on Pukekawa, the "hill of bitter memories", which mourns those slain in the 1820s musket wars. Then across Grafton gully and up to our last park of the day - Albert. Another winner. Why don't we come here more often, too, it's just up from the CBD, after all? Those Victorians knew how to create an oasis in a city.
Journey's end is Princes Wharf, where I recommend making your way to Downtown shopping centre for a massage, then joining your walking buddies at Vue Restaurant and Attica Bar at the top of the Mercure in Customs St.
After a day of parks, this is another place worth parking for a while, for one more look over the city and harbour, this time with wine and menu in hand.
WALK ON BY
The Coast to Coast walkway is 16km long and passes through five volcanic sites. Allow four to six hours. Normal walking gear will be sufficient, but bring water and sunblock. For maps and walkway details click here.
Vue Restaurant and Attica Bar: Mercure Hotel, 8 Customs St, ph 302 9424.
Fan's massage: Westfield Downtown, Custom St (you don't need to book).