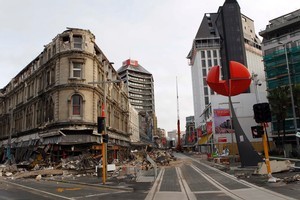 Christchurch "is back on its feet as far as welcoming travellers" and is still worth a two or three day visit, according to international travel guide Lonely Planet.
The February 22 earthquake closed much of the CBD where many of the city's accommodation and attractions are located, but Lonely Planet writer Errol Hunt found on a recent trip to the Garden City there was still plenty for tourists to do.
"...While still bearing the scars of February's quake, the city is back on its feet as far as welcoming travellers," Hunt wrote. "...Staying in Christchurch for two or three days is now thoroughly worthwhile."
Most sights and activities in and around Christchurch remain open, he wrote, including the Willowbank wildlife and Maori culture centre, the Antarctic Centre and Punting on the Avon.
However Hunt acknowledged the devastation of the earthquakes is ever-present.
"Any traveller in the city since February has spent at least some time looking at some of the damaged buildings. Travellers are joined at the cordon's edge by locals doing the same thing, the mood usually one of sombre reflection, as well as simple awe at the sight of some devastated buildings. No-one standing there forgets that deaths occurred in many of these now-ruined buildings."
Hunt said visitors to the city have reported a lack of good nightlife, with a viable alternative to the central city yet to be found.
The three main alternatives are not "world class", he says, describing the university student-favoured drinking holes as the "bogan bars of Riccarton", the bars of Merivale as "a little snooty for our tastes". There are however a "couple of good bars" on Lincoln Rd in Addington.
Hunt said wider Canterbury has remained "open for business", but has seen a decrease in visitor numbers since the quake.
"Akaroa, Kaikoura and Hanmer are all unaffected and as fabulous as ever, while skiers are sharpening their poles in anticipation of the ski season opening at Methven, Mt Hutt, and other nearby ski fields."
Tourists in the South Island during the Rugby World Cup are advised to visit the city to "immerse yourself in the country's national obsession".
"There's no more rugby-focused part of NZ than Christchurch, and the city took an un-needed extra blow when this year's Rugby World Cup games had to be relocated due to quake damage to the city's stadium."
Hunt said with visitor numbers down, "you'll seldom find a better chance for experiencing the South Island".
"Christchurch is certainly still reeling after February's belly punch, and the locals are understandably sick of all the bloody aftershocks. But there's an air of recovery too.
"For travellers, Christchurch is again a valid destination in its own right. And for travellers wanting to help, the best way to do so would be to aid the economy by visiting."
- NZ HERALD STAFF