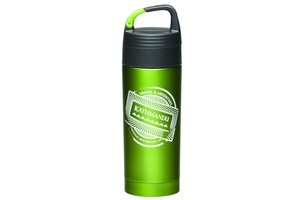 If you're fussy about your brew and prefer your own, of if you are going somewhere where they don't have a cafe then you need not despair.
I took my two grandsons to the cafe-less Stardome Observatory in Cornwall Park for a space trip and while we waited for it to open and they enjoyed the playground next door, I relaxed with a nice hot coffee from home thanks to the Kathmandu vacuum carabiner bottle.
This is a smart little combination 300ml water bottle, travel cup and vacuum flask that fits into the pocket of a backpack and can be used to carry water, drink out of on trains or buses and keep things hot or cold.
It's perfect for an adventure like travelling on the Trans-Siberian ... or just visiting the Stardome.
If I have a criticism it's that the insulation works too well. When I sat down at the park to enjoy my coffee it was still too hot to drink and I had to leave the top open to let it cool down.
You can find out about the carabiner bottle at kathmandu.co.nz. The standard price is $49.98.