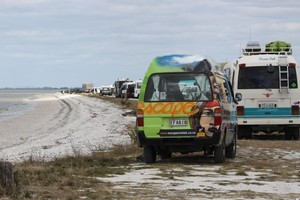 Is the threat of a $200 instant fine going to deter the feckless minority of free campers who pitch their tents in public parks or on the road verge, light fires on the grass, relieve themselves behind the bushes and leave their rubbish scattered about the gardens?
Hmm. Maybe. Some of these louts appear so ignorant they're unlikely to know the rules. Others are clearly so irresponsible they won't care. And collecting fines from foreigners who've bought an old bomb in which to tour the country for a few weeks could be tricky.
But on the whole, the Freedom Camping Bill - which is now being considered by the Local Government and Environment Select Committee, with a view to having it enacted by mid-August in time for the expected influx of visitors for the Rugby World Cup - seems like a sensible approach to a tricky problem.
On the one hand, instant fines are a much more workable approach to transient campers than the present need to bring a court prosecution.
On the other, the stick of fines is being combined with the carrot of better education via the motorhome hire companies - though their customers are probably not the main problem - and websites like camping.org.nz, rankers.co.nz and tourism.net.nz, which provide information about the rules and places to camp.
It's unlikely to completely resolve the problem - tougher laws never do - but it should help.
Of course in an ideal world special legislation and instant fines would not be necessary. But if anyone is still under the illusion that controls are an over-reaction to a minor problem, they need only read the background paper issued by the Department of Conservation with the draft bill.
Among many cases quoted is the experience of the Christchurch City Council, which checked out several popular sites and found 451 freedom camping vehicles and "the ratio of non-self-contained to self-contained vehicles was 5:1".
In another case, DoC managers checked eight popular known camping sites, most of which had "No Camping" signs, and "freedom camping was observed at all sites varying between one and four vans at each site per visit".
"Toilet waste in the form of toilet paper was common and widespread at each site. Human waste was also obvious."
That's simply not acceptable.