Hop in the car and explore the byways beyond our biggest city. Cate Foster goes wandering.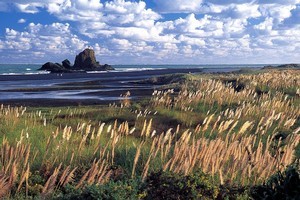 A winter's afternoon can be the perfect time to jump in the car, drive somewhere you've never been before and warm up with a hot chocolate and a brisk walk at your destination.
Turn off the highway and find the byways and back roads that you're usually too busy to explore, hunting out the lesser-known pleasures that are waiting to be discovered in your own back yard. You might find a new spot to make your own.
Read on to find 10 of the best drives, just waiting for you to explore.
1. Leigh
Discover a coastal hamlet at Omaha the south seems to have largely ignored. The wharf at the end of Hauraki Rd is still where fishing boats unload and the little graveyard on the point at the end of Harbour View Rd is a peaceful place for gentle reflection.
What to do when you get there: Park by the wharf, and dangle your feet over the edge while you eat the fish and chips you've just bought up the road. After that, walk around the head of the inlet, past the spot where early missionary Henry Williams would rest his crew, and up over the headland to enjoy the wide views out over the Hauraki Gulf.
Drive time: 70 minutes, about 85km via the toll road.
Lunch stops: Leigh Fish and Chips, 18 Cumberland St, Leigh; Sawmill Cafe and Micro Brewery, 142 Pakiri Rd, Leigh, 09 422 6019.
2. Pohutukawa Coast Highway
This beautiful corner of coast and lush country lies south east of Auckland and is an easy drive if you live on that side of the city, but also a worthwhile destination from further afield. It is scenic and peaceful with one of the prettiest coastal roads in the country.
What to do when you get there: Omaha and Duders regional parks or the Whitford Bird Gardens at 100 Trig Rd are good for open-air activities, or spend time stocking up at the Clevedon Farmers' Market (Sundays 8.30am-3pm) or browsing for knick-knacks at the Clevedon Village Market (Sundays 9am-2pm at the Community Centre).
The Prenzel Liqueur Tasting Room is open Sundays 10am-5pm at 7 Wharf Rd, Whitford, and the Turanga Creek Vineyard is open 11am-4.30pm at Whitford Park Rd.
Drive time: Make a day of it, but two hours if you didn't stop. It's about 100km from Howick via a loop through Maraetai, inland to Clevedon and back through Brookby.
Lunch stops: Lots of delicious choices at the Clevedon Farmers' Market.
3. Tawharanui Regional Park
Situated on a narrow peninsula, this 588ha coastal regional park has lots going for it, not least the scenery and the fact that it's an open sanctuary where native plants and animals can live and breed. Consequently no dogs are allowed. The last few kilometres are along a dirt road with beautiful views across to Kawau Island.
What to do when you get there: Take one of the rolling rural walks or stroll along the white sand beaches. Watch species of once-rare birdlife such as bellbirds, kereru and kaka which are now fairly common across the peninsula.
Drive time: 80 minutes from the CBD, about 90km via the toll road. At Warkworth turn right and then follow the signs.
Lunch stops: None in the park itself so take a picnic, or stop on the way through Matakana at one of several cafes and wineries. Recommended are Omaha Bay Vineyard, 189 Takatu Rd, 09 423 0023; or Matakana Market Kitchen, 2 Matakana Valley Rd, 09 423 0383.
4. West Coast Scenic Drive
Drive from Titirangi at one end to Swanson at the other, through the bush-clad Waitakere Ranges, while enjoying some of the best views available of Auckland and its harbours. To make the most of these views, save this drive for a clear day.
What to do when you get there: Park the car and go for a bush walk. I parked at a well-signposted car park about 15kms from the Titirangi end and went on the 1½ hour walk to the Fairy Falls and back. It was quite steep and could be slippery if wet but totally worth it if you're reasonably fit.
Two narrow gauge tramlines also start from along this road; the Rainforest Express or the Waitakere Tramline.
Both offer a real sense of occasion and a way to penetrate deep into the bush without getting wet. Bookings are essential for both services.
Drive time: One-and-a-half-hour round trip if you didn't stop, but you'll want to. The round trip is about 80km.
Lunch stops: Hardware Cafe, 404 Titirangi Rd, Titirangi; Swanson Station Cafe, 760 Swanson Rd, Swanson.
5. Awhitu Peninsula
Although close to Auckland this is an area which feels more genuinely rural than almost anywhere else within the same radius. The peninsula, flanked by the wild Tasman sea on the west and the calm Manukau harbour on the east, has lots of little beaches, windy roads and views.
What to do when you get there: Walk to the recently renovated lighthouse on the South Manukau Head from the end of Manukau Heads Rd; explore the Awhitu Regional Park, and visit the grounds of the historic Brooks Homestead just up the road from Kauritutahi Beach with its little wharf. Or if that seems too active just while away the afternoon at one of numerous beach-side picnic spots.
Drive time: One and half hours to the lighthouse, about 100km from the CBD. Head to Waiuku and then follow the signs.
Lunch stops: You could just take a picnic and enjoy the stunning scenery from many picnic spots in the regional park, but for a treat visit Agave in the Castaways Resort at 685 Karioitahi Rd, Kariotahi Beach, 09 236 5041. Open all day but booking is essential.
6. Whatipu
Perhaps the wildest of the West Coast beaches, Whatipu is usually the most deserted, with huge skies, a wild hinterland and a feeling of openness like no other. On the way be impressed by the Lower Nihotupu Reservoir, stop at pretty Huia for a snack from the dairy, and soak up the bush views on the last windy stretch along a dirt road.
What to do when you get there: Walk, walk and walk, north along the beach to the caves which are said to have such good acoustics that bands have performed there. Or take the Monawanui Track that runs along the clifftops above the harbour entrance, or the Gibbons track past some of the region's historic spots.
Drive time: About an hour along a windy 40km from the CBD. From Titirangi, turn left down Huia Rd and follow it to its end.
Lunch stops: There's nothing at Whatipu so stock up at one of the Titirangi cafes before you turn off toward Huia.
7. Miranda, Firth of Thames
Avoid the main roads and take a pleasant country and coastal drive around a loop via Clevedon, then along the East Coast Rd through the little settlements of Kawakawa Bay and Orere Point, and return through rural heartland countryside from Mangatawhiri via Hunua. Rejoin SH1 at Papakura.
What to do when you get there: Although the godwits have flown, this is always a good place for bird-watching as, according to DOC, these are wetlands of international significance. Get information on all birds from the Miranda Shorebird Centre, 283 East Coast Rd, between Kaiaua and Miranda 09 232 2781.
Take your togs to warm up in the Miranda Hot Springs, ph 07 867 3055. If you've got time, stop at the Hunua Falls for a walk and a breath of bush air (take a right off Hunua Rd where signposts point to the Hunua Falls Reserve).
Drive time: Miranda is about 90 minutes from the CBD, or 80km.
Lunch stops: Lots of options in Clevedon (see Drive number 2) so snack there, or pick up everything you need for a sumptuous picnic.
8. Helensville and Parakai
Helensville is one of our more historic local towns, with early links to coastal traffic and the Kaipara Harbour. Many of the houses and shop fronts are of this vintage and give the town the feeling of a place that time forgot.
What to do when you get there: Wander down Commercial Rd drinking up the feeling of an old-time country town while you eat the fish and chips you've just picked up from Fays (6 Garfield Rd). The Pioneer Museum (Riverside Reserve, 98 Mill Rd) is open 1pm-3pm, or you can drive 3.5km for a lazy afternoon relaxing in the natural thermal pools at the Aquatic Park at Parakai Springs, 150 Parkhurst Rd, Parakai, 0800 468 760.
Second Hand Land proudly proclaims itself to be "no ordinary junk shop", and is at 14 Garfield St, 09 420 9149. Owned by ex-museum curator John Perry, it has an interesting and eclectic collection of New Zealand art and ceramics, oriental antiques and "man-made and natural curiosities". Open 11am-4.30pm approximately. There are more interesting second hand shops on the southern approaches.
Drive time: 45 minutes from CBD, about 51km, plus five minutes from Helensville to Parakai Springs.
Lunch stops: Ginger Crunch Station Cafe at 2 Railway Street is an award-winning cafe in a historic building. Open Sundays 9am-3pm.
9. Karaka horse country, Clarks Beach and Waiuku
Leaving SH1 at Papakura and heading inland to where the southern reaches of the Manukau Harbour become the Waiuku River, will take you through some of the most lush horse country in New Zealand. It's our version of Kentucky.
What to do when you get there: Stop at Clarks Beach for a wander, then head into Waiuku village. This area is historic in both Maori and colonial history. Stop at the old Kentish Hotel for a top up before heading home.
Drive time: 95 minutes, about 90km.
Lunch stops: There's great seasonal food at local Clarks Beach institution, Chin Wags, 8 Seaway Rd, 09 232 0405. Bookings recommended. The Kentish Hotel, 5 Queen St, Waiuku, 09 235 8367, has an "unbeatable" seafood platter according to Menumania.
10. Raglan (from Hamilton)
Raglan is the closest beach to Hamilton and a great place to get out in the fresh air and relax in its friendly, slightly alternative atmosphere.
What to do when you get there: Hard-core surfers will tackle its waves no matter what the weather. Those less active can mooch among the funky little shops, stroll along the beach, or just have a Sunday seafood lunch looking over the water.
Drive time: 45 minutes from Hamilton, about 50km.
Lunch stops: Orca Restaurant and Bar, 2 Wallis St, 07 825 6543 or Marlin Cafe and Bar, 43 Rose St, 07 825 0010. Both have water views and a seafood menu.