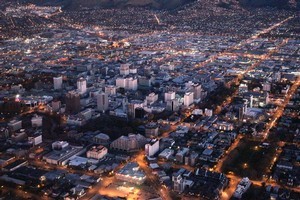 Four times in the past week, I have put my life in the hands of Air New Zealand's decision to fly under an ash cloud from a Chilean volcano.
We haven't been told who in the company hierarchy makes the daily call to keep flying when its rivals, Qantas and Jetstar, stay out of the sky, but whoever it is deserves a medal.
That statement could yet make a fool of me, but my risk is nothing beside the ruin to reputations and careers at the top of the national airline if the decision turns out to be tragically wrong. That is why they deserve a medal.
It is too easy these days to invoke the safety-first principle. Everyone will credit you with putting other people's lives uppermost though it may be mainly your own position you are protecting.
Nobody is going to fire you for erring on the side of caution.
Nobody is even going to criticise you very much, especially if your competitors have come to the same decision. Conversely, you can't expect praise even when the danger has passed.
The flight to Christchurch last Saturday was full, the pilot cheerful when he announced the low altitude he would maintain and the views were a treat.
In Christchurch, the ground was a greater worry than any granules of exploded magma from Chile drifting above. Maybe it is the actual disasters the country has suffered lately that explains the lack of interest in a risk that closed all the airports of Europe not so long ago.
In normal times, the ash cloud could have dominated the news on most days of the past fortnight. By now, we would all be experts on the continuing eruption and the meteorological quirks that could happen.
We would be well versed on the abrasiveness of magma particles and what did happen when they melted in the engines of a British Airways 747 that flew through ash from an eruption in Indonesia in 1982. (All four engines failed but three restarted when the plane descended.)
Instead, we are getting bulletins of the bare essentials, quoting the airline's general manager of operation and safety, Captain David Morgan, who may be my medal recipient but I suspect the chief executive is taking more than a passing interest.
Mr Morgan said on Wednesday that Air NZ was "working closely with the Civil Aviation Authority and the MetService to identify safe flight paths below or around areas of ash".
Am I alone in finding this extraordinary and refreshing?
If we were not a little weary now of natural calamities, Air NZ would struggle to maintain its operations against scare headlines over worried comment from those who live by the precautionary principle and the instinct of the Prime Minister in these circumstances to intervene?
Fortunately, there have been bigger issues. Should shops stock the Kahui book? Should they sell Kronic?
Should Alasdair Thompson, the voice of Auckland employers, be fired for his menstrual theory?
If these decisions were mine, I'd say no, no and no.
There is not much a male can say for Thompson or against him.
A man joining the universal female condemnation of him sounds as silly as he does. We know nothing about the subject. All we can do is listen and learn.
All he can do, if he wants to show his face in public again, is admit he is wiser now.
On the Kahui book, I'm with the boycott. The treatment of those babies was sub-human.
The human right of free speech that author Ian Wishart asserts for their mother is self-serving and obscene. Booksellers don't have to be a party to it.
Some call this censorship. I call it ethics, taste, human dignity and self-respect.
If someone wants to feed on the dregs of a sickening crime there is no law to stop him and there shouldn't be. The valuable thing about all these decisions is that governments and courts are not making them, or not yet in the case of Kronic.
Until Parliament controls the sale of new recreational drugs, every dairy owner has to make the decision for himself. The Herald surveyed quite a number in Auckland last week and found most selling the synthetic cannabis.
I wonder if some had second thoughts after reading the ethical test of one who is not. He said he wouldn't sell it to his son and therefore wouldn't sell it to anyone else's.
New drugs are going to be under a slightly liberalised law. They will be able to go on sale if a regulator in the Ministry of Health rules them safe.
But "safe" is defined strictly these days. Liquor obviously wouldn't pass. And all air services would have been grounded this past fortnight if public servants had been making the decision.