The unique village of Puhoi is the perfect place to while away a weekend day, writes Karen Phelps.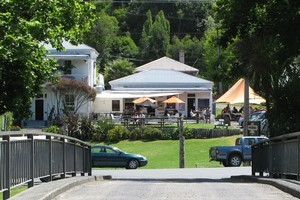 The name Puhoi is Maori for 'slow water', making it the perfect place to spend a lazy Sunday away from the big smoke.
This village 25 minutes north of Auckland's CBD is a unique slice of Kiwi history. Early settlers hailed from Bohemia in the Czech Republic, and some of their descendants, and those of Maori descent who also lived in the area, still call Puhoi home. The Puhoi Museum, next to the church, offers a fascinating insight into the town's unique origins.
There is quite a bit to do in this small corner of the world.
Time your trip for the last Sunday of the month and visit the bustling Puhoi Farmer's Market. This is a true local market with most of the stallholders hailing from the Rodney area. And it's surprisingly multicultural. Expect to find food from far flung corners of the world including India, the Mediterranean, Scotland and Turkey. There's a sage playground right next door to keep your youngsters busy while you sample freshly baked artisan bread, local honey smoked sausages, French crepes and old fashioned lemonade.
Highly recommended is the Puhoi Coffee, freshly roasted and with a New Zealand Coffee Award under its belt for its decaf.
If you can't make the market don't despair - there's plenty of permanent attractions on any given Sunday. You can't miss the Puhoi Pub, located in an elegant 1800s white weatherboard building in the centre of the village, where bikers, locals and dayrippers happily imbibe while sitting beneath a sign that says 'bullshit corner'. The Puhoi Pub is possibly one of last iconic pubs left in the country, with history literally bursting through the kauri walls, making it more like a museum than a regular drinking hole.
If you're taking mum and dad to Puhoi perhaps head for the Puhoi Cottage and Tea Rooms for a Devonshire tea.
The cottage is over 100 years old and I am told by the owner David Dodsworth that everything, apart from the pies, are baked at the cottage bake house and all the recipes have been handed down from owner to owner. Although the warm giant scones dripping with sweet raspberry jam and freshly whipped cream are the main drawcard, there are plenty of other tempting treats. Try the lemon crunch - delicious and gluten and dairy free.
Afterwards you may feel the need to walk off your indulgences. Te Araroa, a 3000km track running from Cape Reinga to Bluff is one of the world's longest hiking trails. And part of it passes through Puhoi. The Puhoi Lookout Trek takes about 50 minutes and weaves through bush rising up to overlook Puhoi township. For a longer walk the 5km Arthur Dunn Bush Track will take you through bush and farmland starting at the intersection of Ahuroa and Remiger Rds.
Soon there will be yet another good reason to come to Puhoi - the renovated Puhoi Valley Cheese Shop and Cafe is due to re-open in August. The new cafe will offer a menu centred on Puhoi Valley cheeses and yoghurts. As well as the company's consumer cheeses you will be able to taste and buy the company's exclusive restaurant brand cheeses. Visitors will also be able to view the cheese making process including temperature controlled rooms to see cheeses at different stages of maturity. It will be the perfect last stop before heading back to the city, with a bag of cheeses for after dinner.
IF YOU GO
Puhoi is 50km north of Auckland, about 25 minutes' drive up SH1.
Attractions:
Farmers' market: Held last Sunday of each month, 9.30am-1.30pm. Next market day scheduled for June 26.
Puhoi Hotel: Phone: 09 422 0812, email: thepuhoipublimited@gmail.com
Puhoi Cottage and Tea Rooms: Open Thursday-Tuesday 10am-4pm.
Puhoi Museum: Open every day from 1-4pm (or whenever the locals feel like it).
Puhoi Valley Cafe and Cheese Store: (Re-opening end of August): Open Monday and Tuesday 10am-4pm, Wednesday to Sunday 8am-6pm.