Kirsten Warner's cycle trip in Bali takes in a volcano, the mysterious 'cat fox' and kopi luwak, the most expensive coffee in the world.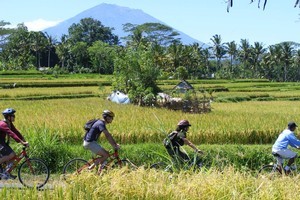 I'd heard about downhill cycle trips before I went to Bali and imagined Bali would be like a sleepy, laid-back Pacific Island with only one road so you couldn't get lost. I was in no way prepared for the densely populated central triangle between Kuta Beach, the capital Denpassar and the town of Ubud in the hills, famous for handcrafts.
Any number of touts and shonky "tourist offices" in Ubud's main Monkey Forest Rd offer cycling. I was keen to get away so I tried Ubud's official information office opposite the palace where an inveterate traveller friend had been given some great advice about local transport. The office recommended Bali Eco Cycling and made a booking.
By eight the next morning we are five women in a modern, air-conditioned van with guide Made (pronounced Ma-day) and driver Wayan. After about 20 minutes we clear the urban build-up. "Do not kick the dogs if they rush after the bicycle, they are our security system," Made briefs us. "They will not bite you."
We stop to photograph tiered rice terraces, and are besieged by small pedlars so insistent, either in a mechanical, blank way or with an urgent pleading, it seems only fair to pay 20,000 rupiah for a T-shirt (about $2.85), a donation we can clearly afford when the average worker here earns only 800,000 rupiah a month or $3.80 a day.
Our guides observe with polite non-judgment.
Three volcanos loom over Bali's physical and spiritual landscape. We summit high on Mt Batur, where black scoria spills seem only recently deposited. The crater lake glitters like glass and there is little sign of occupation other than lattices of fish farms.
A truck as miniaturised as a Tonka toy labours hundreds of metres below us as we breakfast on a terrace overlooking the lake. "Please eat more or you will be charged," jokes the ever-solicitous Made. This delightful, efficient, strong young man has a four-year general university degree, is studying for a Masters and plans to go teaching.
Ten minutes later we stop at an agri-tourism centre and see, smell and taste vanilla, cloves, coffee, cocoa, ginger, cinnamon, ginseng, turmeric - names which conjure the romance of the Dutch East Indies.
It is here we encounter the noctural "cat fox" (otherwise known as the Asian Palm Civet or luwak) sleeping curled in a wire cage. In the wild, this discerning creature feasts on the best, reddest, ripest coffee beans, then defecates the seed inside droppings which coffee gatherers pick up one by one. The droppings are dried, the bean retrieved and roasted to produce kopi luwak, the rarest and most expensive coffee in the world, sold here for approximately $70/100g, or $700/kg.
But we are impatient to get cycling. At the tour depot a group of cyclists is just leaving, including a family with baby in backpack plus toddler in a carrier seat. The parents - or any other rider - can always hop into the van which follows, carrying bags and iced water.
The bikes, while not high-tech or ultra-comfortable, are sturdy enough for constant use on roads mostly tar sealed but with some rugged potholes. My gears are twist shifters but the other bikes have easier-to-use click shifts. One of our group hasn't cycled since she was knocked off her bike by a truck when she was 12, and is clearly terrified. She makes a few unco-ordinated passes without finding the brakes and overshoots the first downhill stop. After a while, she calms down and, by the end of our trip, is elated.
I listen to Made's commentary. He has already discussed the problems arising when banana leaves and coconut fibre are replaced by the plastic which litters Bali, evidenced by bags even laced into the soil of the paddy fields.
BBC - banana, bamboo and coconut - is the economic backbone of Bali, he says. We stop at a family compound in a village which produces fine bamboo matting for lining traditional houses. The whole family is at work splitting, stripping and weaving.
We drift past exquisite rice fields flanked by dark, swaying coconut palms and pass the temples which shape and anchor Balinese life. There is beauty everywhere, natural and created. This is the Bali I have been searching for - contained, quiet, peaceful.
Every few kilometres we whiz through villages, past tiny shops and darkened warungs (kitchens). I feel like one of the spirits the Balinese world is populated by. Motorbike vendors ring their bells to announce ice cream or bakso (soup); absurdly overloaded motorbikes pass; women carry high loads balanced on their heads; an old woman walks a cow.
The gentle, polite, graceful Balinese seem bemused or, as my guide book says, confirmed in their opinion that Bali must be perfectly beautiful for so many people like us to want to leave our homes to visit theirs.
I would never have found my way: left to my own navigation I might have drifted happily downhill until I reached the sea. But when I hear sirens and see trucks approaching with people standing on the back, lights flashing and one of the guides suddenly calls "everyone sit down", I drop. My mind has gone to terrorism and militias.
But it's nothing sinister. A village has just finished its five-yearly purification at the coast and the villagers are going home, preceded by security guys in red. We sit to show respect to the10-minute motorcade led by the village gamelan orchestra, players dressed in white shirts, ceremonial brocade sarongs and headscarves. Beautiful straight-backed pairs of girls as poised as statues glide past on motorbikes, their temple sashes and fitted tunics accentuating perfect curves.
We pass crops of soy and tapioca. Little shrines among the rice fields denote boundaries which are part of the ritual use of water and the cycles of land which produces three rice crops a year. We glide across a dam and halt at two vast bearded banyan trees.
Most of the 25km ride has been downhill, on back roads and village roads. We've stopped every 20 minutes or so and been encouraged to drink. The last half hour is uphill and optional. When we hit the intense traffic of the main road I, too, jump into the van. It's been 33km and at the end are iced drinks and chilled wet cloths. Lunch is served in a modern pavilion, open-sided, Bali-style, to rice paddies, tropical flowers and butterflies.
Bali Eco is a local operation with an Australian connection, a family concern with a 10 per cent staff profit share. It was set up nine years ago because tourists were having terrible experiences - being shown a few sights, fleeced at handicraft centres then rushed back to their hotels. It offers a range of treks and tours as well as cycling, with an educational and ecological emphasis, to introduce the richness of Bali culture and ecology.
There are however, plenty of unregistered companies which don't pay tax, don't pay their staff properly and have poor safety standards. People in our group had been warned by other travellers, particularly about the state of the bikes. Our tour guides said they regularly came across bike accidents, parties of up to 20 cyclists with only one guide, and stragglers and lost riders. But Made needs to get to the university in Denpassar. Only when we stop at the office on the outskirts of Ubud are we asked to pay. It is money well worth spending, certainly a highlight of my trip and a glimpse of the stunning heartland of Bali.
IF YOU GO
Getting there:
Flight Centre has Bali holidays, including return airfares, seven nights' accommodation, return airport transfers, free entrance to 66 Club, MBARGO and The New Bounty Ship, 10% discount on your first jump at The Bungy Company and 10% discount on beginners' lessons at the Rip Curl School of Surf per booking, from $1635 ex Auckland, Wellington or Christchurch per person, twin share. Add on a half-day mountain cycling tour from $90 per person. For further details contact Flight Centre on 0800 427 555.
* Price subject to availability. Valid for sales until 27 June. Travel from 23 August-6 September.
What to do:
Bali Budaya Tours (Bali Eco), Jl Pengosekan, Ubud, Bali. Tel: (0361) 975557, mob 0813 3742 0420.
Tours daily, cost adult approx $51, children under 12 approx $35.70, infants up to five years $24.40. Breakfast and lunch included, and pickups from Nusa Dua/Jimbaran, Kuta, Sanur, Ubud, Legian, Seminyak.
Travellers' tips:
Travelling in Bali is best April to October.
In rainy season, November to the beginning of April, it rains around 4pm, after cycle tours have finished. Warm, heavy tropical rainfalls can be nice but there will be a lot more humidity.
Wear sunglasses, a sunhat under your helmet, running shoes or secure sandals, and a small backpack for sunscreen and, of course, your camera.
Kirsten Warner paid her own way to Bali.