Danielle Wright finds the blustery conditions and loudness of the ocean strangely soothing on a weekend break at Bethells Beach Cottages.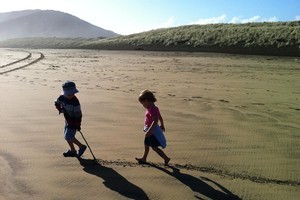 The wild wind and waves washing on the shore nearby is unrelenting. The energy of the weather seems to be felt more on these windswept west coast beaches, creating the kind of urgent sound that, in a film, usually signals a rise in passion, or madness.
Bethells Beach Cottages, overlooking Te Henga (Bethells Beach) has no doubt seen plenty of both during its long history. It's part of the land owned by a fifth-generation Bethell, Trude, who runs the cottages with her partner, John.
Trude's great-grandfather Pa Bethell's parents immigrated to New Zealand in the 1850s. Pa saved for 30 years to buy this land and the beauty of Bethells Beach today is testament to the unique lack of greed the family showed during the era of subdivision and hardship.
We're staying in one of two cottages overlooking the scrub and surf. Our cottage, Te Koinga, means the point, edge or extremity and is filled with quotes such as "Life is Becoming More and More Complicated: Simplify, Simplify" in frames hung in the hallway.
An artist's easel covered in a variety of wide-brimmed straw hats and scarves sits in front of a deck overlooking the blustery beach.
Although it's a retreat from city-life, it's also a place to be shared. Multiple tea pots, dinner-sets and a 12-seater wooden dining room table beckon for a party with friends and family. John built the cottage himself 18 years ago and the perfumed wood still smells strong.
The artistic nature of the place seems to have rubbed off on the visitors as the guest book comments are a bit more creative than usual: "It's as perfect as a tightly coiled spring," says one visitor from Mt Eden. Others include the Elle UK team, Karen Walker and Shania Twain, who filmed Forever and For Always here. There are also the American Xena: Warrior Princess fans.
We arrived in darkness, so in the early hours of the morning we sneak a peak at the view, surprised to see hardy people already on the beach with their dogs. It's a five-minute easy stroll through cabbage-tree-lined paths to the mineral-rich black sand beach so breathtaking to watch from the cottage kitchen window.
We have aspirations of walking its length but our children are satisfied with the massive cave at one end. Locals used to park in the cave for wild parties and get stranded as the tides came in.
From the darkness of the cave, we look out at the full majesty of Bethells Beach with its salt haze, white froth and contrasting black sand that has created a flat and shiny surface perfect for our footprints.
Afterwards, we take John up on his offer of a 4WD tour of the area. The drive is a bit of a backcountry obstacle course as we're thwarted first by a film crew camped out in the middle of one track and a fallen-down tree on another. John just gets out his chains and, reversing, rips the tree away and we're off again.
West coasters are resourceful, and when there's not much to do, people become inventive: like the local kids who have built impressive mountain bike tracks tucked away in the pine forest.
We drive over the dunes to Lake Wainamu. There are families tramping across with picnic baskets and sports teams training up the steep dunes. Our kids are in sandpit heaven, wanting to stay here all day.
We finally convince them to head back to the cottages, a little chocolate may have been involved in the deal, and pass by the 100-year-old original Bethells homestead.
Before dinner, we soak in a Scandinavian hot tub overlooking the ocean, hills and stars. There's also an option of a Kiwi hot tub, a portable one with its own water heater, which can be filled with fresh rainwater and flower petals and placed wherever you like.
Afterwards, we head to the outdoor pizza oven where we add our own toppings of seafood and fresh organic vegetables from the garden on top of freshly made pizza dough.
Bethells Beach Cottages is described as "natural luxury" and it's just that. There are no designer sheets or perfectly hung paintings, but Trude has fashioned the cottages after her own style and that of her guests.
"Over the years, we've been asked for things: a thin pillow, a thick pillow, curtains over a window, and we've bought these things in," explains Trude, who cares deeply about her guests' experience. It's hard to imagine the place this land must hold in her heart.
Bethells Beach is just a 40-minute drive from Auckland. In other cities around the world you would need to drive hours to be this remote. It's more rugged than refined, but somehow the constant noise of the ocean, and the wildness of the landscape, lets your mind be still.
Traveller's tips
Bethells Beach Cottages:
Trude and John Bethell-Paicel (09) 810 9581, info@bethellsbeach.comThere are two cottages and one apartment for accommodation. Prices start at $199 per couple per night low tariff in the apartment and go to $349 per couple per night in the larger cottage/high season. Catered dinners/breakfasts for six or more guests or for special occasions by arrangement.
Treat yourself:
While the waves crash, experience the seaweed body wrap with French mud, Norwegian seaweed and honey from practitioner Sue Beasley's bees. Other treatments such as aura balancing, massages or Trude's daily tune exercises are also available. Or take John's must-do 4WD tour. All activities and treatments are $85/hour.
Bethell's store and cafe:
For winter hours call (09) 810 9381 as it's only open with weather permitting. In summer there's live music on a Friday night until 9pm and up to 150 people at the cafe. No Eftpos, so take cash.
Other activities:
Surfing, swimming, treks, wine tours and Maori hangi, or simply relax in the hammock, play table tennis or croquet on the cottage lawn. The Kiwi hot tub is a fully portable one.