Two Wings of a Nightingale: Persian Soul, Islamic Heart
by Jill Worrall
Exisle Publishing, $36.99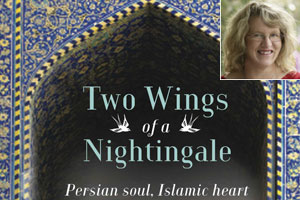 Jill Worrall's personal story is as inspiring as the picture she paints of Iran. After 20 years as a journalist in Timaru she decided to try her hand at freelance travel writing.
It's a change of life that has proved marvellously successful, opening the door to a life of independent travel, leading small groups to interesting places, lots of great travel stories... and books like this.
Her travel stories - including a regular blog on nzherald.co.nz - have won many admirers and several awards.
It will be surprising if this book about Iran, loosely following the trails of the ancient Silk Road, does not add to those honours.
It's a delightful and insightful account of the people and places in a fascinating part of the world.
What makes it particularly effective is the balance offered between Worrall's perceptive observations as an outsider - albeit one who has visited often - with the inside knowledge on local history religion, culture and architecture added by her friend and leading tour guide Reza Mirkhalaf.