There's more to Karangahake Gorge than the view from SH2, as Danielle Wright discovers on a weekend break from Auckland.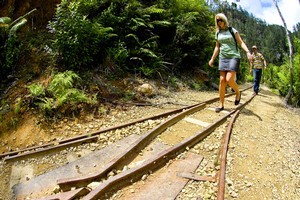 It's the kind of place you drive through on your way somewhere. A beautiful, winding section of SH2 set amid high-rise cliff faces and the fast-flowing Ohinemuri River, about halfway between Auckland and Tauranga.
After a stop at the Bullswool Farm Park on the way into town - 40ha of farmland with the hearty hee-hawing of donkeys ringing across the bush-clad valley - we head to the main entrance to the gorge and its selection of beautiful walks.
We take the railway tunnel loop track; about a 45-minute walk over shaky bridges, past the bubbly boulder-strewn river and through a 1km disused railway tunnel.
It's dark, damp and disorienting in the tunnel with teenage tagging testament to its use as a late-night hideout for locals - "Davinah" seems to come here often.
My husband, who likes the feeling of being scared more than I do, chats away and shuffles through asking often: "Why are you walking so fast?"
After twisting my ankle in my haste, I finally slow down and start to enjoy the feeling of walking in near-total darkness towards distant figures silhouetted against the daylight.
The tunnel has some lighting but torches are recommended as the ground is uneven and water leaks through the wall making it slippery at times.
We forgot the torches but a tiny Lego keyring shines light from its blue plastic legs directly in my eyes as I carry our 2-year-old daughter through the tunnel. "It's so you can see," she says as I'm blinded to whether we're halfway there or not yet.
After 20 minutes in the tunnel, we return to the beauty of the gorge, head past kids paddling and generations of families fishing in the clear rapid-flowing river that, after a bad weather patch, looks creamy brown - like a giant pint of Guinness - in parts.
Resting after the walk at the nearby Waikino Station, we sit in Di's Diner next to a crackling fireplace and surrounded by local crafts and old photographs on the walls. Lace tablecloths sit under plates filled with homemade pies and thick pan-fried toasted ham and cheese sandwiches, transporting us to days gone by.
We're early for the train to nearby Waihi, so we investigate the area, crossing under the road and across a swing-bridge to see the Victoria Battery site. Here, cyanide tanks and other relics from the gold-mining heyday, which began with the 1875 gold-rush, point to a time when this wasn't just a through-town.
Back on the platform at Waikino, the guard greets us and punches our pink souvenir train tickets, just like he has for 30 years. The vintage train takes half an hour to get to the historic gold mining town of Waihi (a five-minute drive away) with the option of inside or open-air carriages.
Cars toot to us from SH2 before we veer off into the countryside. It's not often we get to see country towns off the beaten track and the vintage train takes us through the middle of green fields and lifestyle blocks where men are mowing lawns with their shirts off and women are waving with babies on their hips. It seems this train's appeal is not just for the tourists.
The Goldfields Railway Society has worked hard to preserve the rail heritage of the Karangahake Gorge area and the quaint, beautifully preserved stations - Waihi Station is still in its original 1905 building - and well-maintained historical artefacts are testament to the care and love its members have put into this task.
As we arrive at our accommodation, the tiny Fir Tree Cottage at the Falls Retreat nearby, a loaf of freshly baked bread awaits us from the owner, head chef at award-winning local restaurant The Porch. The log fire is lit and we listen to the kind of brash birdsong you hear only outside of a city.
The quaint cottage used to be a tearoom. Owners Brad and Emma Walters came across it when out walking one day and saw its For Sale sign. They bought the property and set about restoring it.
We go for a walk to the nearby waterfall in the morning before we head back to Auckland. The sound of the rushing water drowns out the large lorries thundering past on SH2 - it's hard to imagine this area once had the heavy sound of a battery stamper going 24 hours a day.
On the short journey back to Auckland, we pass a few industrial areas with steam coming out of furnaces. "Is that the cloud-making machine?" asks our son before he falls asleep after a busy weekend happily exploring in the gorge.
After a lifetime spent just passing through, we're glad we finally had time to stop for the night in Karangahake Gorge, and discover there's still gold to be found in this historic part of the country.
TRAVELLERS' TIPS
Access to Karangahake Gorge Historic Walkway is via SH2 between Paeroa and Waihi.
Where to eat: Ohinemuri Estate Winery and Restaurant for fine food and wine in lush surroundings (ph (07) 862 8874).
Waitete Restaurant Cafe and Ice Creamery for homemade gelato and sorbets
(ph (07) 863 8980).
Waikino Station Cafe for old-fashioned country fare (ph (07) 863 8640).
Where to stay: Falls Retreat - choose from one of its package deals for trampers or romance-seekers - prices start at $130 per night (ph (07) 212 8087).
Things to do with the kids: Bullswool Farm Park has well-cared-for animals and an authentic country feel with plenty to do other than feeding the animals (ph (07) 212 8087).
Further information: Contact Tourism Coromandel, ph (07) 868 0017.