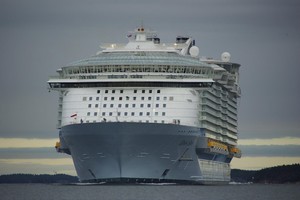 P&O has ordered a 17-deck monster cruise ship costing nearly $1 billion. It will be the largest built for the British market.
With 1812 cabins, the unnamed vessel will have four more rooms than London's largest hotel, Grosvenor House, and almost certainly more restaurants and leisure facilities.
The 141,000-tonne ship will cost £489 million ($983 million), and is expected to have 12 restaurants, three swimming pools, several lounges, a spa, a gym, a cinema and a theatre.
Designed to sleep 3611 passengers, it will have a larger capacity than any other British-based cruise ship and, in weight and number of passengers, will be the seventh largest cruise ship in the world.
But it will still be a relative lightweight - the biggest cruise ships, Royal Caribbean's Allure of the Seas and Oasis of the Seas weigh 225,000 tonnes and carry 5400 passengers.
P&O's new ship will be built by Italian shipbuilder Fincantieri, and the order comes at a time when ship owners are cashing in on a decade-long boom in British cruises.
Between 2001 and 2010 the number of ocean cruises taken by British passengers doubled to 1.62 million, says the Passenger Shipping Association.
One in 20 foreign holidays and one in nine package holidays is a cruise.
- Independent