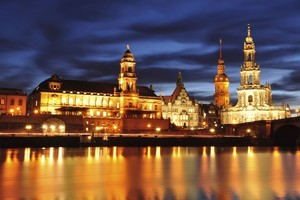 After a four-week stint in Berlin, I plan to travel to Ulm in southern Germany where I will be visiting friends, before heading to the Black Forest. I have one week to make the trip from Berlin to Ulm, which I plan to do by train, with one or two stops along the way. Can you recommend places of interest to stop off? I will be travelling alone for this week and I'm interested in architecture, art galleries, history and culture. I'd be keen to see something of East Germany as I will be spending a lot of time in the West later.
- Chloe Waddell
Lonely Planet's Sarah Bennett & Lee Slater write:
Germany's train system is the finest in Europe and the easiest way to get around the country. The majority of services on this vast network are operated by Deutsche Bahn and their website has timetables, prices and information on destinations.
We've assumed that you don't want to spend too long on trains and have highlighted a few destinations located on or close to the major rail routes between Berlin and Ulm.
Dresden is 2.5 hours from Berlin by train. Few cities boast such a striking silhouette, the classic view being from the Elbe River's northern bank - an unforgettable congregation of delicate spires, soaring towers and dominant domes belonging to palaces, churches and stately buildings.
You could easily spend a few days here browsing just a selection of the city's world-class museums. There's a website dedicated to them.
In the province of Thuringia, Weimar draws visitors whose tastes run to cultural or intellectual pleasures. Spend a little time walking the enchanting old streets of this compact town and you'll find yourself seduced by its epochs of culture.
There are plenty of permanent exhibitions to be enjoyed here on Goethe, Gropius (of the Bauhaus movement), Schiller and Liszt, to name but a few.
About 180km northeast of your final destination is Bamberg and its beautifully preserved collection of 17th and 18th century buildings and winding lanes. It's a little off the tourist trail and worshipped by those in the know. The smoked beer, known as rauchbier, is a local delicacy.
Packing it in
I will be doing a solo six-month round-the-world trip, but would like to avoid tourist routes that attract (drunk) young people on coach tours. However, as a solo female traveller, I am still concerned about safety. I want to visit places of historic interest and/or outdoor activity, such as tramping. What areas do you suggest I definitely should or should not consider? Also, is a "round-the-world" plane ticket a good idea?
- Deb
Lonely Planet's Sarah Bennett and Lee Slater write:
We've each been on solo trips and applaud your courage to go it alone.
Our strategy for safe adventures is to follow the advice our mothers gave us: keep appraised of official travel advisories, read guidebooks and talk to fellow travellers. Pack light, but always take sensible shoes. Oh, and trust your instincts, of course.
It's hard to offer advice on specific destinations, but perhaps consider whether you want to travel in a leisurely fashion and explore a few places in depth or whether you're up for a faster hop-on, hop-off approach that allows you to pack the maximum of experiences into your trip.
In the same time it takes you to trek in Nepal, you could have ticked off six historic cities in Europe. But there's no reason why you can't do both and more. Draw up a wish list and see how the dots join up.
A round-the-world ticket may well be for you. They cover the most popular routes and therefore the most popular destinations, but you can easily branch off into tour-bus free zones. There's also the option of skipping a leg, so you can travel overland for awhile and pick up your next flight down the line. These tickets are economical and offer surprising flexibility, but you might like to book through a travel agent. There's nothing like personal service when your itinerary goes pear-shaped.
If you're stuck for inspiration, why not visit your local library and get your hands on some of those glossy travel books. (Lonely Planet's Best in Travel is a goody.) Despite the power of Photoshop, it will always look better in real life.
Win a Lonely Planet guide book
Email your questions to travel.info@lonelyplanet.com and they'll be answered by Lonely Planet's experts. In addition, the best question each week will earn a Lonely Planet guidebook. Add your postal address and the guidebook you'd like to receive.
Not all questions are answered and Lonely Planet cannot correspond directly with readers.