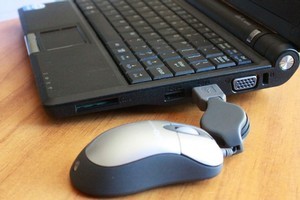 A laptop or a netbook is an increasingly important piece of gear for travellers. They're great for checking emails, seeking information, looking up maps, keeping in touch via Skype and writing stories.
But they can take a bit of space - though my old EeePC netbook is not much bigger than a book - especially by the time you've added chargers, plug adaptors, internet cables and, if like me, you're not altogether keen on the touchpad, a mouse.
So I was delighted to see this DesignGo optical micro mouse, just 7cm long and 4cm wide, with a natty spring-loaded cable retractor. I tried it out on a trip to the West Coast and as well as being compact and easy to pack it's also extremely simple to use. In fact it works so well I've been using it at home.
The DesignGo micro mouse retails for $49.99 and is distributed in New Zealand by Signature Marketing, which has product stands at selected Unichem, Amcal and Life pharmacies, Farmers, Briscoes, Pac 'n' Pedal and the Automobile Association.