Danielle Wright discovers a day at the races, wild west-coast style.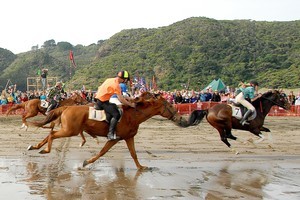 Brightly coloured flags by local artist Margot Tocchi transform the beach into a mediaeval pageant. The flags stand to attention in the dunes, waving as horses trail through ankle-deep water to the start line of the Karekare beach races.
It's been a regular event here since 1985, modelled after the 100-year-old Onetangi beach races on Waiheke Island, and is an "almost-annual" event - "almost" because finding a day with the ideal tidal conditions is sometimes difficult.
Caroline Grove, one of the event organisers, says a lot of effort goes into making this not-for-profit event work, with most of the community being part of the organising committee in some way, yet it also has a wider appeal and is a well known event throughout Auckland.
Sweepstake betting is all that's allowed by gambling rules so we head to the makeshift betting tent and place a few $2 bets for, you guessed it, the losing horse in our race.
The diminutive Welsh pony named Nemo is so slow we get excited for a moment thinking he's actually winning the next race. Never mind, he still receives lots of cheers when he finally crosses the finish line, no doubt already tired after a morning giving pony rides to kids up and down the black sandy beach.
It's betting for a good cause because all profits go to the 30-student Lone Kauri community school and Karekare Surf Life Saving Patrol. This year $15,000 was raised on the day, with more from sponsor's pledges still to come.
In between the races - there's a good half hour to wait - the kids' competitions and a mad hatters competition for the "wildest hat" are run, while food stalls are busy selling home-made local recipes.
There's a quiet atmosphere - no music and the crowds are thoughtful, rather than boisterous. Even the MC forfeits the usual over-the-top racing commentary to mention little-known facts about the much-loved beach and its history - the name Karekare means "breaking surf" in Maori.
Different generations mingle while horses mosey about between races on this dark stretch of sand shaded by tall tree-lined hills.
Grove is right when she says Karekare is "majestic and dramatic with ever-changing moods".
Of all the more well-known western beaches, Karekare is the most remote and was made famous as the spectacular backdrop for Jane Campion's The Piano. It has inspired other artists such as Salmonella Dub and Crowded House, who recorded much of Together Alone here.
The horse riders come from local clubs and as far away as Whitford to Wellsford. They race past surfers struggling through a small swell as we leave the beach muddy and windblown.
It's always taken a hardy soul to reach Karekare beach. Even years ago, when a fashionable Karekare beach farm and guesthouse was the attraction, the steep entrance to the beach meant visitors would have to walk behind their horse and carriage down the more treacherous roads.
The guesthouse is long gone, but the steep road is still there to put off less hardy souls.
Says local painter and ex-resident of Karekare, Robin Binsley: "It's not always easy, but we like it this way."
Traveller's tips
* Create the mediaeval pageant atmosphere with Flagfiesta.co.nz
* Mobile phones don't work at Karekare, so plan your route before you come and don't rely on road signs to get you there.
* For more about the beach races go to: karekare.org.nz