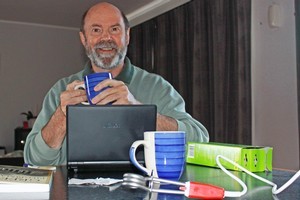 I'm sure it's an embarrassing sign of old age and colonial cringe but one thing I do like to have when I'm on the road is a nice early morning cup of weak tea ... well, two cups, really.
During the day I love trying the local food and drink but to get the old system moving first thing I really need my tea. Unfortunately, you can't always count on finding tea-making facilities when you're travelling, not even in England, origin of my tea-loving heritage, and not even in China, where tea-drinking was first recorded, so over the years I've weaned myself off milk which makes brewing a cuppa much simpler - and I take a few useful bits of gear.
My preparations certainly paid off on my big trip last year, a fantastic month-long journey down the Silk Road, where despite the fact that tea was one of the treasures carried down the ancient trade route, the gear for making it was not always on offer.
A few of the places we stayed had kettles, cups and tea bags (usually green tea which I rather enjoy), several had thermos jugs full of hot water and glasses to drink out of, and some had only jugs of hot water, but thanks to my foresight in taking a travel mug and a few tea bags of my own I was usually able to make myself an early morning cup or two and sit writing until it was time for breakfast.
But the highlight of the trip from the tea-making point of view was a fancy hotel in the Uzbekistan capital of Tashkent which had a nice modern kettle and a full range of English tea bags. I was very excited until I discovered that, incredibly, there was not a single drinking vessel in the room (luckily I had my travel mug) and, almost unbelievably, it turned out that none of the two types of power point in the room matched the plug on the kettle. Combining two of the units from my universal adapter I was able to power it up and with a considerable sense of triumph, I was able to enjoy three - yes, a celebratory third - cups of Earl Grey tea. A grand moment.
Since I've returned home the teamaking situation has got even better. After years of searching I've finally located a cup-sized immersion heater which is ideal for taking on a trip. I've given it a thorough testing and I'm happy to report that it takes only a couple of minutes to boil. Indeed, as you read this, thanks to my boiler I'll be enjoying a cuppa at an ill-equipped pub in England. Life is good.
* You can get a Korjo water boiler for $42.95 online or from Worldwise Travellers' Health Clinics in several cities.