So close to Auckland, and yet a world away, is a hotel tucked into an area of unsurpassed beauty. Nikki Birrell heads into the heart of the Waitakeres.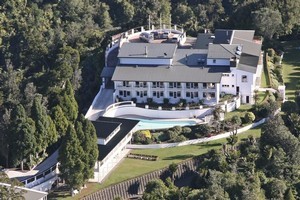 After recovering from the unbelievable vistas that envelop Waitakere Estate, the next thing that may strike you is the silence. Surrounded by lush, dense bush you'd expect to hear a cacophony of bird call, but there wasn't so much as a twitter as we stood on our hotel room balcony. And silence, as they say, is golden. Especially when you've just come from a noisy inner-city apartment.
Hard to believe that this seemingly isolated paradise is only a 35- to 40-minute drive from central Auckland.
A tour of the estate reveals a stately wonder - perfectly manicured grounds (including a helipad for guests who'd like to cut their journey time to 11 minutes), a retro lounge with a mezzanine library, imposing fireplace and large windows looking out to the jungle views beyond... always those views, those incredible, world-class views.
Talking with the estate's managing director, Reg Nevill-Jackson, whose father built the premises in the 60s and who was lucky enough to grow up here, we are almost disappointed to hear upgrades are planned for the reception and lounge areas, plus the three self-contained suites.
But Reg assures us there will be no chain hotel-style homogenisation - the aim is to retain and enhance the grandness and unique ambience.
You can see evidence of this in the areas that have already been given the once-over - our gorgeous room with its huge bed and juliet balcony, and decadent trimmings in the dining area to enhance the pleasures of the many delights served up there.
Speaking of dining, sitting down to our first meal, we could barely concentrate on the tempting menu as we watched the dimming light intensify the glitter-like layers that spread across Auckland in the distance - there surely can't be many restaurant experiences with an outlook quite so dreamy.
And if it's possible to tire of the Waitakere Estate's many charms - in-room massages, a squash court and sauna - the Waitakeres offer up so many things to see and do; bush walks, wild beaches, the cafe culture of Titirangi village...
If you're up on a Saturday morning the Oratia Farmers' Market provides a satisfying diversion, too.
Music greeted us as we strolled up to a welcoming array of stalls and we soon joined the groups of people on the central grassy area, a place to enjoy the band and sample some of our buys - decadently moreish fried Hungarian bread topped with tomatoes, basil and feta; a cherry vanilla creme croissant and coffee; plus some figs, cheese and prosciutto for snack time at the hotel, along with a bottle of Artisan wine from the vineyard on site.
Feeling full and happy, on our way back to the car we almost walked right past the antique and curios shop, Just Plane Interesting. Thank goodness we didn't. Otherwise we wouldn't have been entertained and flabbergasted by the range of items on display, including an old haunted house "electric chair man", stuffed animals, piles upon piles of old records, and a Xena dedication room complete with dimmed lights and eerie music. You could spend days in this shop and still discover something new.
Rose Hellaby House, on the road to the hotel, also provided a glimpse into another era.
Named after its former owner, who fell in love with the view from the section - which alone makes a visit worthwhile - her beloved home now holds an appealing display of antiques for sale.
In keeping with this old-fashioned theme, at the hotel the next afternoon we sat down to a delightful high tea in the sumptuous dining room. You can pop into the estate to partake of this even if you're not planning to stay.
But staying is so much fun. And though silence greeted us on arrival, packing our bags to leave we listened to a lone tui sing us a tuneful ditty. Which we're pretty sure was an invitation to come back.
TRAVELLERS' TIPS
Where to stay: Waitakere Estate is at 573 Scenic Dr, Waiatarua, Auckland, about 35 minutes' drive from central Auckland. Ph (09) 814 9622. Perfect for a romantic getaway, Waitakere Estate also specialises in wedding packages and conferences.
What to do:
* Oratia Farmers' Market is at Artisan Wines, 99 Parrs Cross Rd, Oratia. Open every Saturday, 9am-12pm.
* The Arataki Visitor Centre at 300 Scenic Dr, Oratia, has information about bush walks and beaches. Hours: September 1 to April 30, 9am-5pm (closed Christmas Day). May 1 to August 31, 10am-4pm (Mon-Fri), 9am-5pm (Sat and Sun).
* Just Plane Interesting is at 99 Parrs Cross Rd, Oratia. Open Monday to Sunday, 9.30am-4.30pm.
* Rose Hellaby House is at 515 Scenic Dr, Waiatarua. Grounds open during daylight hours.